CATCHING AIR by Darlene Eliot
CATCHING AIR
by Darlene Eliot
Kevin rolled his ankle on August 25th and never stopped talking about it. The steep hill, the bearings, the cross street of killer cars, the way he caught air before landing on the compost heap placed-there-by-God so he didn't snap his spine. He remembered I was the oldest but squinted at everyone else, like peering through an algae-covered aquarium.
It took two Christmases before we could listen without glancing at each other, grateful he didn't catch the looks between siblings, nephews, nieces, and a brother-in-law who stopped skating. We tried to focus on his eyes, his bushy eyebrows, the scar like a question mark where his hair refused to grow. We embraced his omissions and errors, listening over and over, until the recall was as comforting as a fireside chat and the passing of mashed potatoes, his grip firm on an inverted bowl as he dumped peas into the potatoes. Time dropping through gaps and pauses in his sentences, erasing the bone-shattering way he landed… the tubes in his nose and throat… questions of responsiveness… retention… speech.
His story had a soft landing. No ICU. No parents pacing the lobby or leaving in separate cars. No mention of a third and final divorce. No reference to Mom moving to New England or Dad back in rehab, on a road trip, then another and another, then telling us not to call. No mention of Angie making a spectacle of herself at the hospital, then wiping her face, texting, and digging in her backpack for keys when Kevin didn't wake up on time. She didn't say anything before leaving. I guess we do that to people.
Kevin thinks Angie is on vacation with her family. We do not correct him. He's going to propose when she gets back. He just needs a diamond and some help with his speech. He writes things down, then crumples it up and says he'll just wing it. We don't correct him. He is most happy when he talks about her. And the hill. And how he caught air. And how he wishes she had been there to see it.
---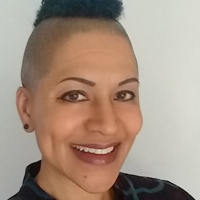 Darlene Eliot was born in Canada and grew up in Southern California. After working as a social worker, a teacher, and an acquisitions library clerk, she began writing short fiction about life in suburbia. Darlene currently lives in Northern California with someone she adores and loves watching the weather change hourly as she writes her short stories.
Cover Photo by Lukas Bato on Unsplash