PET PIRANHAS & DREAM OF PARAKEETS, two micorfictions by Jeff Friedman

Jeff Friedman
TWO MICROFICTIONS
PET PIRANHAS
Jess and I loved to watch our pet piranhas swim back and forth, weaving through the lush greens in our aquarium. Though we had seen the James Bond movie in which a pool of piranhas had stripped a man to the bone in seconds, we believed that if they were treated well, the piranhas would be loving pets. We kept them in a tank under the window so that they could get direct sun as well as the nourishing light from the multicolored lights we installed. We'd sprinkle in food, and the piranhas would rise to the surface at once to eat it as if they were a single body. Often Jess would wiggle a finger in the water to see if she could lure a piranha to curl around it, but before they could get to it, she lifted it out. "Not today," she would say. "But I'm not afraid." Once she left her finger in a little too long, and a very small piranha caught the tip and clung to it. Jess felt a barb-like sting and scraped the piranha against the glass. When she lifted her finger, blood oozed up out of a tiny cut. She took the blame for it and said she had learned her lesson.
But what was the lesson? Then they started killing each other. Every day, there were dead bodies and blood in the water. "Let's get rid of them," I said, "before they're all dead." But Jess wouldn't have it. "We can't abandon them," she said. "They're our pets. We're responsible.  It wasn't long before we were down to one piranha. "He's a murderer," I said. "He's beautiful," she answered, "and now there's no reason not to keep him." I considered pouring him into the garbage disposal while Jess was sleeping, but I knew she would never forgive me.  Day and night, the piranha swam joyfully from one wall to the other as if happy to be alone.
◊
DREAM OF PARAKEETS
Dozens of parakeets had invaded the room, landing on her shoulders and head. She remained still, afraid to move because they might start biting her and tearing out her hair. Then she screamed. He had been afraid to wake her, but now he touched her arm lightly and whispered, "It's a dream." She couldn't see him. He told her a few jokes, but she didn't laugh.  She said that she followed a map of lies to a cave in which a troll lived, and that the troll somehow reminded her of him. When she pleaded with the troll to let her go, the troll got out of her way. She came to a bright place in the cave, where she found a chest full of orange sand. She grabbed handfuls of it and threw it in the air, and the next thing he knew, dozens of parakeets flew through the room, and though he struggled, he couldn't open his eyes.
---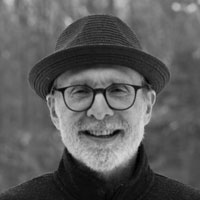 Jeff Friedman's tenth book, Ashes in Paradise, will be published by Madhat Press in Spring 2023. Friedman's poems, mini stories and translations have appeared in American Poetry Review, Poetry, Poetry International, New England Review, Flash Fiction Funny, Antioch Review, American Journal of Poetry, Flash Fiction Funny, Flash Nonfiction Funny, Hotel Amerika, Best Microfiction 2021 and 2022, and The New Republic. He has received an NEA Literature Translation Fellowship and numerous other awards. Meg Pokrass and Jeff Friedman's co-written collection of fabulist microfiction, The House of Grana Padano, was published by Pelekinesis in Spring 2022.
Cover Design by Karen Rile