ROOM FOR GRACE, a memoir by Maureen and Daniel Kenner, reviewed by Colleen Davis
ROOM FOR GRACE
by Maureen and Daniel Kenner
Silver Boot Imprints, 213 pages
reviewed by Colleen Davis
Purchase this book to benefit Cleaver
Grief is a waiting room with broken blinds. Cracks in the slats reveal some light outside, but since the pulleys won't move, it's impossible to know when—or if—the sun will shine on us again. The first time you lose a parent, this room feels strange and its shadows thwart your compass.  Like death itself, you've been told that grief brings anguish. Yet until it happens, it's hard to imagine what it really feels like to lose your mom or dad. When my father died, I barely ate a thing. I started buying coffee on the way to work each day because the hot cup gave me a weird kind of comfort. If you can feel that heat burning through winter gloves, you know you're still alive. If you can swallow the coffee, your heart will beat its way through another gloomy day. Six months after my dad's funeral I wore a red dress to the office. A friend looked at me and said, "Now you look more like yourself." I was not aware that I'd ever been any different.
Three weeks after Daniel Kenner lost his father—a retired Performing Arts teacher—he also lost his mother. She had recently ended a career in the teaching profession, too.  Both parents were admired by flocks of students and colleagues; each won accolades in their field. Kenner's book, Room for Grace, captures the essence of their lives as a family. His work is the product of a true collaboration with his mother, who taped hours of interviews with her son while she fought cancer and helped her husband wrestle with dementia. Kenner turned her audio interviews into a touching memoir that tracks the slow decline of both parents as they battled devastating illnesses.
Grief is a waiting room with broken blinds.
I had a strong interest in the book because my mother suffered with the same strange variant of dementia that plagued Kenner's father. Frontal Temporal Dementia (FTD) is an excruciating disease. People are typically stricken at much younger ages than those who get Alzheimer's. Like Daniel's father, Buddy, many FTD patients, are still employed when they begin to display odd behavior. Symptoms can progress slowly and steal each neurological function—from manual dexterity to moral judgment.
At first I was disappointed that most of the book was comprised of direct transcription from interviews with Maureen Kenner, but after I read more I became mesmerized by her insight and character.  She had dedicated her teaching career to working with Special Needs students. Mrs. Kenner had a real passion for helping kids who'd faced grim physical and emotional setbacks before arriving in her class. Daniel Kenner weaves her observations about these children into the fabric of a life story. Student vignettes serve as apt illustrations of Maureen's determined efforts to nurture the gifts kids brought to the table, regardless of their circumstances. The stories of students plucked from trauma or abandoned by parents offer a stark comparison to the Kenner household, which is lavish with love and resources.
While the book offers many examples of good Kenner parenting, it is most powerful as a testament to the value of skilled educators. Teaching in today's public school system requires creative use of limited resources, extensive collaboration with colleagues of different backgrounds and temperaments, and ceaseless struggle to raise student test scores. Gone are the days when good intentions and a textbook series could carry an instructor through a school year.
Maureen Kenner seemed to be invigorated by the challenges of her field. Even after her cancer was diagnosed, she threw herself headlong into the daunting process of finding innovative ways to teach students who had varying disabilities. In her view, the tragedies she faced as a parent, teacher, and a wife taught her "courage, teamwork and tenacity." They did not derail her with a sense of futility or learned helplessness. When a succession of chemotherapies failed to reverse the growth of her cancer, she still struggled to care for her husband and refused to throw in the towel.
After Bud Kenner suffered a catastrophic accident, Maureen seemed to finally run out of answers. A terrible fall put Bud in the hospital for surgery to repair a spinal cord injury. Maureen created a list of questions and doubts she couldn't neutralize with her customary optimism. She asked, "Will you ever have a catch, throw a football, toss a baseball? Will we ever go hand in hand again?"
Daniel Kenner's book succeeds in creating a portrait of love and unity that is burnished by the off-stage specter of suffering and death.
Bud had, like his wife, earned praise for his commitment to excellence in teaching. But he had also faced professional censure when his disease prompted erratic behavior that was out of character in such a beloved teacher. After his accident, he applied his professional work ethic to the process of physical rehabilitation. His efforts, however, brought meager results that helped his wife understand he would never be himself again. Over time she was able to accept Bud's limitations, much the same way that she recognized the constraints of her Special Needs students. She noted, "Buddy gave me the soft sense of peace I sought… From deep inside him, somewhere past the static of the dementia, he still knew exactly what to say and how to reassure me."
Daniel Kenner's book succeeds in creating a portrait of love and unity that is burnished by the off-stage specter of suffering and death. He employs literary tools to bring some measure of catharsis after a losing campaign against fate. The Kenner family offers an important example of how caring for others can add meaning and great value to life. Compassion is the only real bulwark against despair. It doesn't cure everything but it brings some measure of radiance to our moments in the dark.
---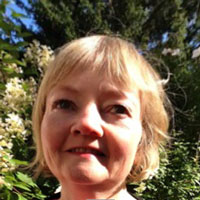 Colleen Davis is a freelance writer currently at work on her memoir on the healing aspects of caregiving. She serves as Director of Communications for Delta Community Supports, Inc. and her writing has been featured in Making Sense of Alzheimer's, Elephant Journal, and episodes of the television documentary Philadelphia: The Great Experiment.