THE LIGHT FANTASTIC, a young adult novel by Sarah Combs, reviewed by Allison Renner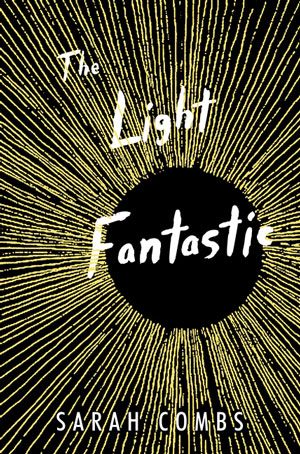 THE LIGHT FANTASTIC
by Sarah Combs
Candlewick Press, 311 pages
reviewed by Allison Renner
To make a book about school shootings stand out among an influx of young adult books about the topic takes skill and in her new novel The Light Fantastic Combs delivers with detailed characters and a unique premise. Told from several different points of view, the novel covers the span of a few hours across multiple time zones as a new day starts and a nationwide school shooting epidemic begins.
While some of the narrators identify their names and details of their past and present, others are referred to by their state, and are more resistant about sharing their personal stories. But there is some overlap, where details shared by a named narrator are later mentioned in a more anonymous chapter. This creates a delightfully suspenseful uncertainty where the reader isn't sure who is "good"—an innocent high school student—or who is "bad"—a high school student holding a grudge against classmates.
April, who dwells on tragedies that occurred in her birth month, has hyperthymesia, a condition that allows her to remember every detail about her daily life. She scopes out emergency exits when she's in public and toes the line of paranoia without quite crossing it, even when she should. Which is why she and her two best friends are in school on April's birthday, despite it being senior skip day.
April's best friend, Gavin, thinks and speaks in hashtags, which adds personality and humor to the story, even when he's crammed in the Lockdown Closet with a physics class. Phoebe, catfished, mocked, and laughed at, is someone who wants to show her classmates that she's not the stupid girl who will fall for anything.
When the Mastermind, the creator of an online forum for those who have been bullied and publically shamed, reaches out to her, she sees her opportunity for redemption. That's all the forum is at the start—a place to be heard, to feel welcome, to feel understood. But it grows into something else, a plan that is half-joke, half-"what if?"
With some members dropping out, uncomfortable with the anger bubbling under the Mastermind's exterior, others decide to stay. And new people, burned by the internet and bullies in one way or another, find him. A few of these chosen victims share their points of view in the book, flashing back to the episodes that broke them, and why they want to show their classmates who they really are.
Despite centering around school shootings with a lot of details about various shootings and bombings, the book is not especially violent. It focuses more on the teens' inner lives: what they think about, what they remember, and how they act during a tragedy, whether or not they're the ones suffering or inflicting it. There aren't many books that make you feel something deep for "the bad guy", and even fewer that present all of the characters without initially showing who is the hunter and who is the prey. The method is especially effective in The Light Fantastic, providing suspense, uncertainty, and a ticking clock. As time passes, the anonymous characters have to pick their plan of action. Even the Mastermind is uncertain about his final goal; will all his efforts have been for nothing?
With literature classes across the country studying Tennessee Williams' The Glass Menagerie when the action takes place, the line about how Tom's father "skipped the light fantastic" becomes a significant thread. The poetic references to the play become tangled up in the turmoil of the teens' everyday lives. With the added pressure of loaded guns in the hands of teens across the country, this unique portrayal of school shootings is a stand-out read.
---
---

Allison Renner has worked as a photographer, student teacher, and graphic designer. She is currently a librarian who shares her love of young adult literature with teens in public libraries.