Pressure Dressing, poems by Mark Scroggins, reviewed by Johnny Payne
PRESSURE DRESSING
by Mark Scroggins
MadHat Press, 2018
reviewed by Johnny Payne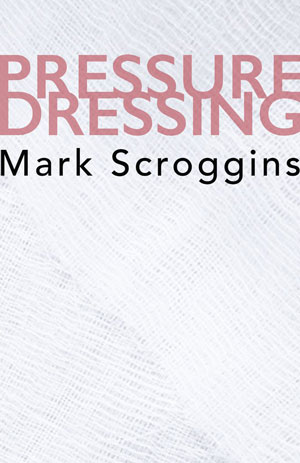 It is a pleasure when a poet weds mind and heart in equal measure. Poets who tend toward innovation are often peremptorily classified by critics and readers as cerebral, the commenter overemphasizing surface play and failing to perceive—much less value—the emotional qualities they bring to their work. Thus ersatz schools and confederacies looser than that of Jefferson Davis come into being.
In Pressure Dressing, Scroggins demonstrates that the emotional is as wholly compatible with intellect—even driven by intellect—as any of the so-called confessional poets of mid-20th century writing whose extravagance got oversold while their ideas got shorted. Like the best of them, he stages self-conscious speculation about the world rather than simply about the self. Just as Saint Augustine used confession as a path to metaphysical reality, open to all, Scroggins explores secular shifts in social reality which drive one's inner being.
Enlightenment
As x-rays. No time for puns.
No time at all. Pen pushing against
time, against cancer, against love.
Aging and death are deterministic realities, yet they also demonstrate how the isolated self is pushed back on the world, its hard-earned consolations and perennial discontent. One detects a certain sadness, even outright depression, but I perceive it rather as a space of contemplation, where melancholy renders the speaker an observer, sometimes loquacious, sometimes mute, always skeptical.
Reprieval—redemption—atonement—
all those big balloony words we used
to feel upon our pulse, they sound
like phrases in a faded legal brief.
The law used to present itself
as a structure that bore up
the whole of this fair fabric,
the visible world.
The measured quality, the self-restraint, is not meant to appease; rather, it opens up a gap in which any aspect of the (outward) self may fit. Ruskin, that blogger avant la lettre, whose keen verbal variations shine with precise light, is an informing spirit. The book, satisfyingly divided into short stanzas, sometimes green with foliage, sometimes green with sour-apricot pith, could rightly be called hard-edge lyric, such as one that humorously excoriates Sarah Palin.
………………….the square
glasses and perfect hair
of necromancy
they rise from their seats,
those young men in evening
dress, fling their desire
at her feet en masse
This first half, however, which alone might receive hearty if scattered applause, is eclipsed by the long poem that takes up the second half. It is as enlivening as Louis Zukofsky's best work. Being a partisan of the long poem—and having published a long-poem book myself, as well as teaching the form regularly to my students—I can fully appreciate the rigor of concept and execution required to make it all one thing and not to wander into redundancy or dilatory pondering. The best long poems must succeed as both image and rhetoric, as both lyric and informed discourse, as self exploding into a finite yet capacious sphere. In short, it takes a lot of technique. Scroggins is up to the task. As befits his title, he keeps the pressure on himself. One superb strategic choice is to stick to a ten-line stanza throughout.
The shape of the words in the mouth,
ground strange against the palate, letters
unfamiliar eldritch insects. St. Cyril's
coy and cunning invention. Pages upon
pages of them, piling into years
of staring and labor. My father
conned those pages once, now ash
and pulp. Shape of language, shaping
itself around ordnance, logistics, crime
and punishment, war and peace.
These capsules of sensory thought offer erudition without ostentation. Proponents of poem cycles discovered this judicious manner of proceeding long ago—Shakespeare, Spenser, medieval and metaphysical poets. Yet what separates a single, unitary poem from these cycles is strict unity of purpose, and the continuity of sentiment one encounters in the best operas. There are memorable phrases here, but the poem, while sometimes aphoristic, is not meant to be quotable. As for its dramatic qualities, no, this is not Lucia de Lammermoor, or even Orpheus and Eurydice. Yet beneath the laconic, terse, sometimes gnomic play of sound and sense, lies expansive, even profligate feeling, disguised as stoic and laconic phrases. This long poem does not prove unduly difficult to read, nor does it feature any great indeterminacy. You just have to consider it carefully. It is the work of a mature poet, sure of his themes and conscious of what it will take to bring them across. He knows what he wants and he knows what he means. I found it satisfying to entrust myself to this guide. It is not glib to say you can't write this poem at twenty. As a reader, you may stand outside it or you may stand inside it, but either way, there is plenty of room for reflection.
The Real Thing. Das es. Look, but don't
touch. Don't see. One language alone,
he tells, won't do, but what's said
isn't worth the hearing. Some god
bends his graceful, rib-rounded
torso to touch some nymph. Instant
rerun. She has an idea for the muse,
sharper than she ought to be, more
determined by far than me. Father
Helios, all a-wobble.
The prosodic elements might seem flat-footed at times, keen at others, yet the comparatively muted rhythmic and sound qualities fit this sequence of meditations, at times more essay than prose poem. I read the stanzas as paragraphs of a searching, eclectic and curious intelligence, again comparable to the writing of Ruskin, who approached his panoply of verbal production without worrying too much under what aegis his work might be categorized. In the end, Scroggins' writing is writing, and you can call it what you want. Our age is too much concerned with what classification will go on the back cover. Scroggins has approached his poetry in the most organic manner.
I don't know how else to put it except to say that this long poem sequence seems to be forged, hammered, beaten, each stanza an ingot, born hot to temper, and allowed to cool before being pressed into service. Perhaps poets descended from gossamer and onion-skin, or the devotees of the illegible palimpsest, wouldn't take to their creations being called durable. But that's what I witness here, a disposition to endure—that is, to stand up to the sometimes tragic demands of life—to endure in the sense of outlasting one's individual destiny. Not written for posterity, but simply to demonstrate that consciousness, in the end, is a lasting artifact.
This book must be read. Scroggins has produced a poem of great stamina, fortitude, heft, yet without any of the heaviness these words imply. It is ardor without arduousness. Pressure Dressing sets a contemporary standard for what is often called narrative poetry, at a time when the poetry of indeterminacy now represents just one more seat at the table, and poets, without gainsaying that Satanic rebellion, return to the entire repertoire of modernism.
---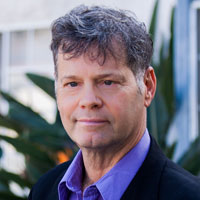 Johnny Payne's novel The Hard Side of the River is forthcoming form TCK Press. In the coming months, he will direct his play Los Feliz, and a co-written opera, Skyland. He is currently writing a new play, Cannibals, and a novel set in Imperial China.  He directs the MFA in Creative Writing at Mount Saint Mary's University in Los Angeles.