MAKING EGGS by Carly Eathorne
Carly Eathorne
MAKING EGGS
A thousand ways to make an egg, and I'm
attempting one: over-easy. But there
past the blotches on my kitchen window
gleams the hourglass
on the belly of the black widow –
she, too, is making eggs.
Her process commences
with the drape of her naked legs
against her homespun silk,
and the swell of her abdomen
silhouetted against the sunrise,
hot and full like my skillet.
Her suitor comes running like yolk.

She only eats her mate
if she is hungry — what woman isn't?
We finish our meals together,
comrades in breakfasting for one.
---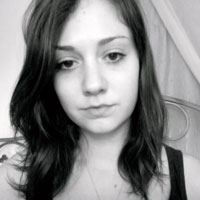 Carly Eathorne recently received her BA in English from Western Washington University. In the past, her work has appeared in Inkspeak Magazine, and she received a Sue C. Boynton Poetry Contest Merit Award in 2012. She is happy to call several locations in the Pacific Northwest home, and cannot think of a better place to be inspired.