EXPOSURE, short stories by Katy Resch George, reviewed by Rebecca Entel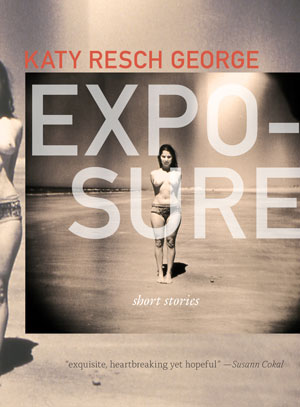 EXPOSURE
by Katy Resch George
Kore Press, 168 pages
reviewed by Rebecca Entel
The cover of Exposure, a short story collection by Katy Resch George, hints at the kind of stories you'll find inside. The photograph of a topless woman on a beach with her arms tugged behind her is both intimate and distant, the woman exposed but also obscured by the translucent type of the title and, in the repeated image, wrapped around the spine of the book, also underneath type. The woman's expression is blocked by George's name on the spine and, on the front cover, hard to make out. Is she scowling at the camera? Pondering something beyond it? Seductive, angry, unsure? George's female characters, especially, are exposed and obscured in this intriguing book.
Exposure begins with the title piece, a short-short story that introduces us to both intimacy and estrangement. Like most of the other short-short stories in the collection, we don't learn the characters' names, and the writing achieves tension in how it pulls us in and holds us back. This is form and theme, both. In the short-short (three pages) "Exposure," a removed third-person narrator takes us through a quick chain of associations. The story begins as a man is dying alone after slipping on his way home from a New Year's Eve party. In the next paragraph, we learn his name from a local news anchor who reports the story. Not quite understanding his own reaction to the death, and wondering if it is triggering a memory long buried, the anchor contacts his sister. And then the sister becomes the focus for the remaining paragraphs. Alone at a movie, she remembers a long-ago boyfriend with the same last name as the deceased man and also notices a couple holding hands. "To hold hands in a theater," she thinks, "is to say I am watching this movie, but I am also in this life that I share with this person; I bring this life with me wherever I go." The story works well as an introduction to a collection that shows both intimacy and isolation—and the past associations we bring into any present setting.
The distance that resonates thematically in the opening piece does not seem as effective in some of the other shorter pieces. But in the longer stories, where we learn much more about all that life the characters bring with them to each layered moment, her writing is most memorable.
The longer stories are about a high school student's reaction to an acquaintance's death; a teacher dealing (or not) with the loss of a child; an adolescent's discomforts with her own body and others' and the cryptic relationship she observes between her mother and the neighbor; a mother's concerns about her teenaged daughter's sexuality brewing alongside the indignities of middle-aged dating; a father taking his two thirty-ish daughters to Disney World to try to rectify past failures. In each of these pieces, George displays some of the same skills as in "Exposure": giving us glimpses of a character's past intruding on the present and a sharp eye for when to cut away from a finely-wrought scene.
In "Adult Daughters," as the belated Disney trip unravels, so does the narrator's social work career as she tries to manage via cell phone an escalating situation with a foster case. Like those personal lives brought into the movie theater, each character's pains and foibles come along to the theme park, and we witness it all through the imperfect lens of the narrator, who, personally and professionally, misjudges every urgency. This story in particular has a depth of character and conflict on par with any novel:
My fingertips tingled, so I traced my index finger along my eyebrows, down the length of my nose, around my lips. I had forgotten that my mother had done this to Rebecca and me with a cotton swab when we were very little.
"What are you doing?" Rebecca asked.
For a second, I thought to tell her about our mother. But it felt so good, the light touch on my face. It was a memory I didn't want my sister to trash.
"Meditating," I said, and felt the bench vibrate slightly as my phone began to ring. I withdrew it from my bag to see a familiar incoming number: Leonard, my boss, probably calling to say my lax practices meant Human Services had a hearing in its future, possibly a settlement to pay. Maybe Irina would get to Ukraine after all. I silenced the ringer.
Rebecca pointed across the moat. "Dad's up!"
Dad had made it through the crowd of parents and children and stood before Cinderella, trying, it appeared, to figure out how to capture a shot of them together. He stood beside her and held the camera out, arm's distance. But Cinderella slinked away. She shook her head, fanned her hands daintily before her face. "No, no," she appeared to be saying. Dad tried again, and again Cinderella slipped away, not bothering with the bashful gestures. She moved on to the next ring of children.
"Adult Daughters" is a story not soon forgotten (and neither is the book's final image, which I won't give away here). One of the story's characters presciently tells the narrator, "'I can't explain what you don't see'"—but George certainly can. Exposure gives us a lot to see and ponder and also speaks for the significance of small, independent publishing houses like Kore Press.
---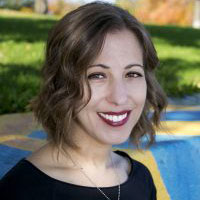 Rebecca Entel's short stories have appeared in such journals as Guernica, Joyland, and Cleaver. Her first novel Fingerprints of Previous Owners was published in June 2017 from Unnamed Press. She is Associate Professor of English and Creative Writing at Cornell College, where she teaches courses in creative writing, multicultural American literature, Caribbean literature, and the literature of social justice.