AUTO CORRECTED by Jackie Craven

Jackie Craven
AUTO CORRECTED
Today has dawned a nude beginning. The male truck idles
at the curfew and the bruisepaper waits on the porch. Already
children climb the pill to their elementary scheme. Today
has dreamed a new pretending. I rub my sighs and put coffins
on to brew. If only I were yogurt! Gazing out my chicken window,
I watch a flock of wretches necking in the trees. Somewhere
a lawnmower begins to whore. Today has donned a blue
bikini. Goblins scream and squeals scamper across the dawn.
If it weren't for the chills, I'd quit my throb. Sometimes
I wonder if I'll have enough ink to carry on. So many sweats!
I cheat my toast and rush to worry, drinking 65, 70, 82. Today
has spawned another sinning. Lions flash in my mirror
and everywhere I turn, white helmets. Raised pistils.
Scowling faces of two dozen—peonies?
---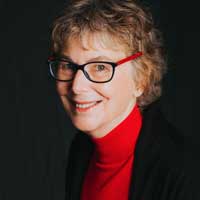 Jackie Craven is the author of Secret Formulas & Techniques of the Masters (Brick Road Poetry Press, 2018) and a chapbook, Our Lives Became Unmanageable (Omnidawn, 2016). Recent poems appear or are forthcoming in Agni, The Massachusetts Review, Pleiades, Poet Lore, River Styx, and Salamander. She's worked for many years as a journalist covering architecture, design, and cultural travel for various publications.
Image credit: Agê Barros on Unsplash