WELCOME TO TRAIN WRECK by Catherine Parnell

Catherine Parnell
WELCOME TO THE TRAIN WRECK
You cannot cross train tracks without holding your breath, nor can you drive over a bridge without a lungful of air. Your children witness your fears, think it's a game, and they, too, hold their breath going over tracks or bridges. You would like to tell them it's not a game, like Duck Duck Goose or Red Rover, but you decide that the universe will drop its own bomb of terror on them, and what possible good would come of your own unburdening?
At the playground you circle the swings, hoping to find an old wooden seater, but no such luck, so stop living in the past, please. These days everything is built for safety—full buckets for babies who can barely hold their heads up, half-buckets for toddlers with wobbly balance, swing and slide seats for the brave and daring under-tens, because no one wants to get caught dead on a swing after that. Your five-year-old son and seven-year-old daughter screech as they run to the blue rubber swings, kick off, and hit high velocity. You did this when you were their age. There was a time when you believed you could fly if only you pumped high enough. You still believe this, but it has nothing to do with swings. You aren't sure if you need wings or stronger legs.
Although she has been dead for a very long time, Donna peers down at you from the blue and green hard plastic climbing structure topped by a fort big enough for four and no more. You tell your kids to keep swinging as you climb up the ramps and ladders toward Donna. What are you doing here, you ask, and you've got one eye on her and one eye on your kids. You're a little happy and a little unnerved—she's still following you around, but you're as used to it now as you were in first grade.
Donna's wearing a plaid skirt, a white blouse with a Peter Pan collar, frilly socks, and scuffed saddle shoes. Her black barrette is askew and she's sucking on a dark strand of her hair. You're not supposed to do that, you tell her, and she spits the hair out of her mouth.
…….
Oh, grow up, she says.
…….
Yes, you say wearily. I've done that.
…….
Aren't you the lucky one, she says, licking her finger and rubbing at a scuff mark on her shoe.
…….
You think so?
…….
Nyet, she says.
…….
Your son and daughter run up the ramp and ask who you're talking to. Your ripped jeans and baggy sweater make you look like an itinerant, and you're pretty sure you haven't washed your hair in a few days. You make googly eyes at your kids.
…….
Myself, you say.
…….
You're crazy, says your son.
…….
You are crazy, Donna says.
…….
Maybe, you say, and your son laughs. Donna looks mad, like the time your first-grade teacher told her she'd never get to second grade if she didn't learn to read. Mrs. Piasecka paired you with Donna for reading time that day and every day thereafter until spring dropped by for a seasonal hello, and you all went outside to eat lunch, and Donna announced she could read, and everyone clapped, because everyone loved Donna, especially you. Then you all sat on the warm green grass pulling food from your lunchboxes (yours had a tractor on it), and when you'd all eaten, Mrs. Piasecka passed around homemade molasses cookies because you were wonderful children.
…….
You never hated molasses cookies before, but you sure do now.
…….
When the playground loses its thrill, you and your children walk to the supermarket to buy milk and Smiley Face Fries. Donna sits in the frozen food aisle, eating cookie dough ice cream. Now what? you ask. Your son turns to you and says, I want ice cream. Donna grins. It's really good, she says. You ought to buy some. You never know, do you?
…….
You put your arm around your son and walk away. How about a candy bar? you ask, and your daughter wants one, too, so you let them pick and they get big chocolate bars and they eat them on the way home, and then you have to wash their dirty little faces, but you don't mind so much. You serve them hot dogs and fries and big glasses of milk, and your daughter spills her milk, and you sop it up, telling her not to cry. It's just milk you say. Your daughter asks if there are enough cows in the world so that everyone gets milk. It's not that simple, you tell her. Milk can be expensive. Some people can't buy it.
…….
Your son announces he wants a cow. That way he will always have milk. You tell him he has to learn to milk a cow first, and you promise him a trip to a dairy farm. When you were in first grade a local farmer brought a cow to the playground, and everyone in class learned to milk a cow, but Donna was the only one who squirted milk right into her mouth. Mrs. Piasecka gave Donna three gold stars on her pink construction paper balloon that was taped to the Look At Me wall. Your balloon was blue and you had just as many stars as Donna, mostly from getting high marks on class handouts and clapping dusty erasers. If you'd known you could have earned stars for drinking milk straight from the cow you would have done it, even though the cow smelled like shit and hay. Even then you knew the value of awards, especially public commendation.
…….
Donna never had milk money, so you shared your milk with her. The two of you sat in the cafeteria with two straws stuck into one carton and counted the number of slurps it took to drink all the milk. Now you can't remember how many, but you do remember Mrs. Piasecka telling you how nice it was to share, and she stuck a gold star on your blue balloon. Your mother let you give your old play clothes—overalls and t-shirts from Sears—to Donna, who was a size smaller than you—that was a kind of sharing. Your mother was big on charitable causes, but not so big that you were allowed to go to Donna's house. When you wanted to play with Donna, your mother insisted Donna visit your house. Your father just shrugged. Your mom rules the roost, he said. Now you get it—your mom was a chicken. Or a cow. Probably a sheep.
…….
Donna sits in the rocking chair by the kitchen's bay window, watching your children eat. Your mother was a product of her time, she says.
…….
What time? you ask, and your daughter says, Daddy? Dadeeee?
…….
You remember your mother looking at Donna and telling you she was just off the boat, which you were sure was not a good thing in your mother's eyes. Your father was right, your mother ruled with an erratic iron fist, which is something Donna, had she grown up, would have told you is exactly what she and her family were fleeing from when they left the USSR or Russia or whatever it was then. Donna always whispered U-S-S-R in your ear and then looked around to see who was watching. You thought the USSR was a battleship like the USS Wisconsin or something, but your father, home on leave, said it used to be a country, more or less, and not a great one at that.
…….
Every country has its ups and downs.
…….
That night as you're reading to your children, Donna sits beneath the window and clutches your son's red and white striped monkey. Let me read to them, she demands, but you shake your head. When the story is finished you tuck the children in and kiss them goodnight, leaving the nightlight on.
…….
They should say their prayers, Donna says as you walk out of the room and shut the door, and you say, Look where it got me. The two of you sit down in the hallway and she starts in on what she tells you every time she shows up, that she was in the back seat of the car next to the picnic basket, her father was driving and the train hit the car hard like a Batman punch Pow! Blam! Her mother called Jesus Save Us, and then the car spun off the road, hit the arch of the bridge and nosedived into the water, and was it ever black, Donna says, but we hit the river bottom and the water came in and you grabbed my hand and we went out the window.
…….
Donna, you say. She stands up and shakes her head, already denying you.
…….
You know I wasn't in the car, you say.
…….
I have to go now, she says.
…….
Jesus, you say. I wasn't there.
…….
Eleven, she says. That's how many sips it took to empty the milk carton. And she's gone.
…….
You wanted to go on the picnic with Donna's family, but your mother said No.  Your father said the world was a big place and you'd better get used to it, so go have some fun. But there was no answer when you telephoned Donna to say you were allowed to go. When news of the accident spread your mother took you straight to church and told you to pray for Donna's poor soul, so you bowed your head and asked God to bring Donna back, and he did, and now you are stuck with her and her stories, which have grown old and maybe even a little boring, but it would be a lie to say that you wished Donna would go away. She is the last time God answered your prayers, and he has a lot to answer for, not that you're asking. So you hold your breath when you go over train tracks and bridges, and you let your kids think it's a game instead of telling them to get ready for a world full of sad stories that don't mean a thing unless they happen to you.
---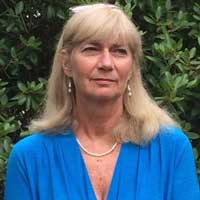 Catherine Parnell teaches at Southern New Hampshire University in the MFA program and at Grub Street in Boston. She is the editor for Consequence Magazine, and her work has appeared in The Brooklyn Rail, The Rumpus, Tenderly, TSR: The Southampton Review, Post Road, Baltimore Review, Redivider, and other publications. Parnell also works as an independent consultant in communications, writing, and the arts, and is the author of The Kingdom of His Will.
Image credit: Vincent Guth on Unsplash