A PLACE OF COMFORT by Eliot Li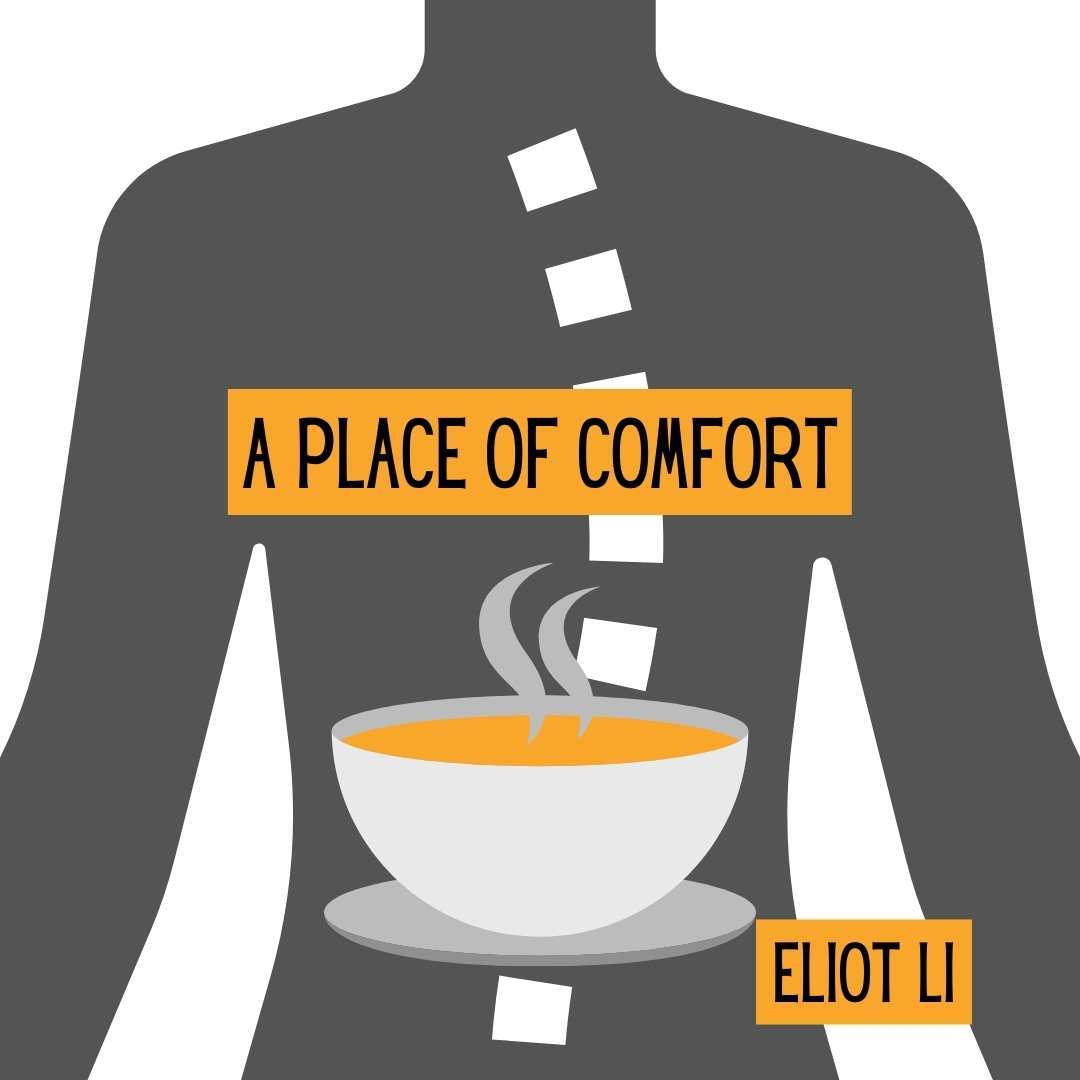 Eliot Li
A PLACE OF COMFORT
Dustin, whose adolescent spine curved gently to the right. He hardly ever wore his corrective brace to school because it was so obvious under his polo shirt. Whose bedroom equaled comfort, Phoebe Cates on the wall and Steve Perry looking vaguely Asian with his long black rock star hair. He searched for his face in the poster.
Dustin, who rode his bike downtown and asked the barber to curl a wave in his straight Asian hair, because he thought it might make him more like the white kids. Who washed his Levi's five times on Saturday afternoon so they would fade. Whose father grabbed him by the shoulders and slammed him against the mudroom wall because he was wasting water, and the utility bill was already so goddamn out of control.
Dustin, who liked his mother's slow-roasted curry, the soft carrots and the fatty clumps inside cubes of short rib that melted in his mouth. Who folded his hands on the dinner table and told his father that no, he completely disagreed, Hispanics and Blacks are not inherently lazier than the Chinese, as his mother spooned more curry into his bowl, and his father raised a fist and told him to shut up because he was just a dumb teenager who didn't know what the hell he was talking about, then screamed Get the fuck out of my house. Who lay in the storage shed, next to the rusty chainsaws, and squinted up at the rafters looking for black widows because he read that black widows live in outdoor shacks.
Whose mother stepped into the shed in her nightgown, blanket in her arms. She slid his shoes off and made a nest in the dirt for the two of them.
"You don't deserve it, the way he treats you," she said, holding on to his toes.
◊
Dustin, who chose Cal Poly over UC Berkeley, because Cal Poly was a longer, four-hour drive south along 101 rather than fifteen minutes up 580. "You're a moron," his father said. "Would've flunked out of Berkeley anyway."
"I'm not a moron," he whispered, loading the last suitcase into the car.
◊
Dustin starts a job as an English teacher in Okinawa. He buys posters from Takashimaya, covers the walls of his classroom with Arashi, Morning Musume, and other J-Pop stars with flamboyantly styled hair. The boys in those bands have his face.
The night at the Izakaya hanging out with the other teachers. He towers over them. "Hearty American diet," they say. "My mother's curry," he replies.
Would've been even taller if you wore the goddamn back brace.
Yumiko, the math teacher, cinches the cherry blossom tie around her hair and touches his shoulder. They eat taro-flavored soft serve. She giggles and dabs her napkin at the purple spot on the tip of his nose.
Dustin, who holds her on the tatami mat in his apartment. Who marvels at how the spiders in Okinawa are as big as his hand. He's watching one under the eaves, shiny belly with yellow stripes, vibrating on its web.
Dustin, who writes his mother a letter, wonders if she's well. Prays that she's safe. Who's sorry he can't come home but knows she understands. Who tells her how he almost cries when he eats the local donburi, so delicately prepared, the way the ikura salmon roe bursts in his mouth, leaving a splash of ocean water on his tongue.
---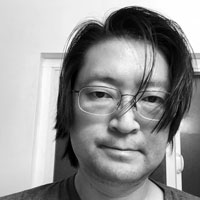 Eliot Li lives in California. His work appears or is forthcoming in Smokelong Quarterly, Pithead Chapel, The Pinch, Flash Frog, Gordon Square Review, Lunch Ticket, The Margins, and others. Eliot Li is on twitter @EliotLi2.
Cover Design by Karen Rile