ENOUGH by Margaret MacInnis

Margaret MacInnis
ENOUGH
When my infant daughter turns her face from my nipple and stiffens in my arms, I panic, imagining my lungs filling with water. I'm drowning on my living room floor, where I sit topless, still in my pajama bottoms. As the afternoon sunlight slants across the room, I need help, but no one is coming, not yet. It's too early in the day to expect my husband, who isn't my husband at all, but a man I barely knew before we made our daughter, made a home; but we're trying, so I try to nudge my daughter back to my breast, then try a little harder, while she grows stiffer, more resolute, but she has to eat, and I have to feed her, and no one told me how hard this would be, so I pump and pump some more, then feed her with a bottle.
While she naps across my chest, I Google, and when my husband-not-my-husband returns home, I explain the rebirthing process.
After filling the tub with warm water, I'll get in and lie back. He'll float the baby on her back beside me while I softly talk to her, gently stroking her at the same time. When she relaxes, calm at last, calm in a way she seldom is at three months, for she is always howling, always hungry, he will move her, now on her belly, to my belly, where she will stay—for as long as it takes—until she begins moving toward my nipple. If the rebirthing works, she will resume breastfeeding.
"It's worth a try," he agrees.
Everything we try and fail at is worth a try, so with a heart full of the kind of hope that keeps you believing in something much longer than you should, and with lungs slowly draining, I prepare the bath, strip down, climb in, and call for him.
My baby and I float side by side while he watches, his index finger lightly pressing into her back to help her float, while I whisper, "I love you, sweet girl, only girl, please let me give you what no one gave me." Let it be enough. Enough to save us both. Save him too. I try not to sound frantic, desperate, not knowing it's too late, the damage done, and I'll be pumping for twelve more months.
For a few glorious moments, it is not too late, and when he places our daughter on top of me, she inches her way toward my breast. It takes everything I have not to move, not to shriek, it's working, it's working.
When she latches, finally drinking, he whispers, "Stay still, don't startle her."
I am the startled one, but somehow I stay still, so still, until she's had enough, until she lifts her head.
---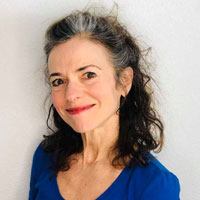 Margaret MacInnis writes and raises her daughter in Iowa City. Her recent work appears in Brevity, Diagram, Fifty-Word Stories, Ghost Parachute, Mutha Magazine, Potato Soup Journal, The Rye Whiskey Review, Thrush Poetry Journal, and Tiny Molecules. Other work appears in Alaska Quarterly Review, Colorado Review, Gettysburg Review, Gulf Coast Review, Mid-American Review, River Teeth, Tampa Review, and elsewhere. Nominated for three Pushcart prizes, she has received notable distinction in Best American Essays and Best American Non-Required Reading. Since 2010, Margaret MacInnis has worked as personal assistant to Marilynne Robinson.
Cover Design by Karen Rile