YOU'RE ALWAYS IN MY HAIR by E. Kristin Anderson
E. Kristin Anderson


YOU'RE ALWAYS IN MY HAIR (after Prince)



I've seen the future and it will be
puffy-eyed. We'll rise like an army
of teeth, you and me seeded in sick earth
to grow into what might be: strange,
beautiful shunned in this apartment
third from the sun.
I miss you like magnolia wet at my feet,
lavender far beyond the reach of waves.
There's the exit flashing red (always
in our way, in our way)—you, somehow
new power in lids behind fleshy dark.
My heart beats so hard the bed shakes,
the night turns.
We speak in tongues that are also vipers
and from our guts grow swarms of birds.
Mountains grew so high, and we
wore hats to protect the truth—felted,
woven, wide brims, coy grins. Once
this life was the sum of its parts;
the details have melted to muscle
and bone,
I find thanks in raspberries straight from the bush
stems attached, someone's skin left on the branch.
How do you measure controversy?
In shouts or in ripples? They find a bullet
in my pocket, a tube of lipstick. I find
that paradise is a condition. I feel a little less
on the bus wearing black sweating violet
into my elbows.
Imagine what silence looks like.
Imagine what silence looks like.
---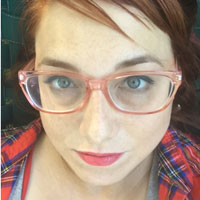 E. Kristin Anderson is a poet, Prince fan, Starbucks connoisseur, and glitter enthusiast living in Austin, Texas. She is the co-editor of Dear Teen Me, and her next anthology, Hysteria: Writing the Female Body, is forthcoming from Sable Books. She is currently working on Come as You Are, an anthology of writing on 90s pop culture. Kristin is the author of seven chapbooks of poetry including A Guide for the Practical Abductee (Red Bird Chapbooks), Pray, Pray, Pray: Poems I wrote to Prince in the Middle of the Night (Porkbelly Press), Fire in the Sky (Grey Book Press), She Witnesses (dancing girl press), and We're Doing Witchcraft (Hermeneutic Chaos Press). Kristin is an editor and designer at Red Paint Hill and was formerly a poetry editor at Found Poetry Review. Once upon a time she worked at The New Yorker. Find her online at EKristinAnderson.com and on Twitter @ek_anderson.
Image credit: Radoslav Minchev on Flickr