THE SPECTRUM by Merridawn Duckler
Merridawn Duckler


THE SPECTRUM



The mood of the river is to glitter
which also is a way to deflect,
if I had to name its surface,
I'd say it was the color of a sweaty disco tank.
Color is how we comprehend the length of light
and what constitutes darkness is not without controversy;
water swallows all of the spectrum
except blue, which is what it reflects.
But this river has a motion like that woman at the airport
who wanded me in a long ago security drill
then bent close, sniffed my perfume
and said Opium, man that takes me back
and I won't say she exactly did the Hustle
but I won't say she was exactly still.
---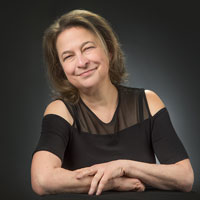 Merridawn Duckler is a poet and playwright from Portland, Oregon. Recently, her poetry has appeared in The Offing, Unbroken Journal, Free State Review, Crab Creek Review, Literary Orphan, Dunes Review, and others. She was runner-up in the Arizona Poetry Center Contest, judged by Farid Matuk, and a finalist at Center for Book Arts, Tupelo Press, and the Sozoplo Fiction Fellowship. Her fellowships and awards include Writers@Work, NEA, Yaddo, Squaw Valley, SLS in St. Petersburg, Russia, Southampton Writers Conference, and Wigleaf Top 50 in micro-fiction, among others. She is an editor at Narrative and the international philosophy journal Evental Aesthetics.
Image credit: Biel Morro on Unsplash