WE ARE ALIVE AS LONG AS THE SNOW IS DEEP by Ron Burch

Ron Burch
WE ARE ALIVE AS LONG AS THE SNOW IS DEEP
You pound on the dirty living room window from outside. You want in and I leave the room. Bloodsucker, zombie, cannibal. You tell me that you will take me into the bedroom. You say you will make it worth my time. You just need a hit, a bump. I say I don't have anything. Leave me the fuck alone but you beg. My phone rings. I get email. You seem to be everywhere even though I see your shadow blighting the soiled brown window curtains. You send me naked photos of yourself, on your knees, your face not facing the camera. You did not take the pictures. Someone's fat thumb blurs the frame.
You shout a story through the window: remember the winter in central park. the snow fell like a landslide. it wouldn't stop. we got tired of living in one room so we went outside and built a snow man sitting on a park bench, his arm extended along the back, his legs crossed at the knee. we built his snow dog near him, probably a wolfhound, his body so large, almost as big as the man. you slid yourself under the man's arm as if you were under winter's protection, the faceless man next to you, his faceless dog at your feet. this is our family you said to me.
You remember that? you say from outside the window. We have nothing else, you say. We have each other. No matter what happens, you say to me from outside, we only have each other after all these years. We have pictures to prove it. Find them, you say, find them.
No, I say, the snow has melted, the snow has vanished, and like that, you are gone as well.
---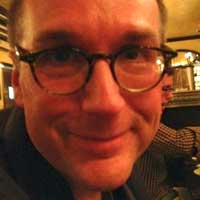 Ron Burch writes and produces a TV show for DreamWorks Animation. His first novel, Bliss Inc., was published by BlazeVOX Books; Aqueous Books is publishing his flash-fiction collection Menagerie in 2015. He lives in Los Angeles. Please visit: www.ronburch.net.
Image credit: ~Dawn~ via photopin cc
Read more from Cleaver Magazine's Issue #8.