ONTOLOGY OF FATHERHOOD by Luke Wortley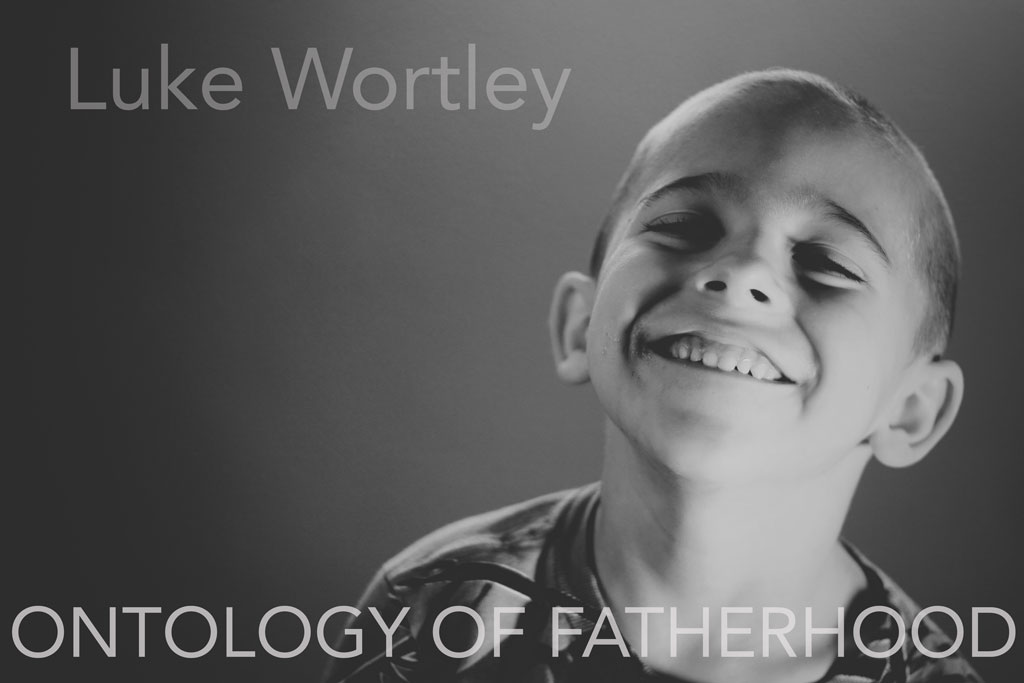 Luke Wortley
ONTOLOGY OF FATHERHOOD
Apparently Jack just learned the basics of genealogy. The lowest, sturdiest limbs branching out from roots of blood not my own. When I picked him up from school today, amid raindrops the size of a newborn's hands, he told me about Memaw and Poppy and how they were Mommy's mommy and daddy.
"You're my daddy," he says.
"Yeah, buddy, that's right."
Though this isn't legally true, yet. The Sperm Donor, as Poppy calls him, is in Chicago contesting my petition.
"And Mommy is my mommy," he says.
"Yup. What's Mommy's name?" I ask.
"Katie!" he screeches.
"That's right!"
Something else about his friend Dontae having to go to the nurse and how it was Layla's turn for computer time. Pause. Here it comes.
"Who's your mommy?" he asks.
Over my speakers the buzzer cleaves his train of thought. Ringing weaves through our family tree.
"Banana is, buddy. You know that," I say.
"A warning from the National Weather Service will follow shortly…The National Weather Service in Indianapolis, Indiana has issued a flash flood warning for the following areas…"
◊
We drift down the hill and turn right, toward home, cruising alongside the frothing creek as it overpowers the deepest roots on the banks, carrying mud and limbs away and under the bridge. Overhead, the vestiges of winter give way to the first whispers of April. My birthday is in a week. Yes, I'm an Aries, and this morning my horoscope told me that "Communication comes easy for you today, Aries. However, your partner might be a bit more guarded. Just be sure to take your time, as you might keep missing each other."
My father is a Leo, as is Jack.
◊
After the beeping dissolves like the end of laughter, my son asks me the thing I don't know how to communicate.
"Daddy, who's your daddy?" The question reverbs like the warble-fuss of coyote pups crouching beneath the brush pile as we took aim all those years ago.
They had, of course, seen each other at the wedding back in Kentucky. My father and his new wife's massive ring, their bourbon-laced vows misting over us like sweat. At the reception in the church basement, my father wrenched the preacher's hand so hard that his shoulder popped. Others used ties to make a sling as he nipped at a flask and told a story about Ole Grandpa Chet who'd finally died by blood poisoning saving his wife, Ethel, from their car marooned in Floyd's Fork, the muddy water roaring them through the guardrail. Chet survived two train crashes, a hive of yellow jackets, and a fall from the roof. My father had survived a head through a windshield and took pills to keep him from flopping around like the fish left on the banks. Like coyote pups clinging to life. I survived my father. Maybe my son will survive his as well.
I drive past our neighborhood and glide into a parking space between the liquor store and his favorite ice cream parlor.
"His name was John," I say, preparing to step out into the deluge to unbuckle him from his car seat.
---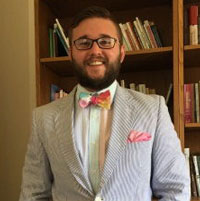 When Luke Wortley was a kid he wanted to be an interventional radiologist. After four or five concussions, he forgot calculus and figured out he loved words instead. He has an M.F.A. in Creative Writing from Butler University, where he was the fiction editor at Booth: A Journal. Luke Wortley's fiction and poetry have appeared in Inch, Limestone, Lascaux Review, Pea River Journal, and Milkfist.
Image credit: Timothy Eberly on Unsplash