EMILY AS A GRAND ASSUMPTION & EMILY AS DART AND PIVOT by Darren C. Demaree
TWO POEMS
by Darren C. Demaree
I.
EMILY AS A GRAND ASSUMPTION
Tide
& fog,
the shore
lines up
like an army,
slow
to defeat,
powerful
with neat
tongues
tucked in
to avoid
the swallow
of salt.
It's not
a defense
when Em
carries
lightning
to make
glass near
the ocean.
It is,
however,
only mine,
my dream
that she
buries
death there
to threaten
the moon
with cause.
x
x
x

II.
EMILY AS DART AND PIVOT
Asleep, never resting
the humming lamb
of the wonder, of labor
& of cupping, springs
even in conjecture,
at the owl of fresh
desire. It is night
& there are no shadows.
Emily is waiting for me.
---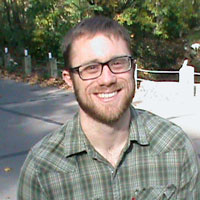 Darren C. Demaree is the author of As We Refer to Our Bodies (2013, 8th House), Temporary Champions (2014, Main Street Rag), and Not For Art For Prayer (2015, 8th House). He is the recipient of three Pushcart Prize nominations and a Best of the Net nomination. He is currently living in Columbus, Ohio with his wife and children.