SORRY TO BE LATE by Marc Harshman

SORRY TO BE LATE
by Marc Harshman
He knew how it would be—should have.
Forgetting the keys on the table,
………….doors locked, window's open, returning
……………………..on a loop of memories
……………………..to finding and un-find
……………………..the forgotten un-begotten.
There was something to be done.
Pilgrimage or errands . . .
Doors and windows.
Roads and stars.
Here in the foyer is the overflow, the detritus
………….from the wedding, birthday, wake.
He wouldn't know what to say
………….even if he knew these people.
He turns on the lights.
Tries the back yard.
The key fits the road like a feather.
Something.  There is to do.
A bird has fallen smoothly
…………out of the inconsequential sky,
…………begins thrashing in the underbrush.
Another threshold.
There he was . . .
……………always unexpected and the rush
……………to apologize, to do something.
And then
………….he let each of us
………………………shake his hand.
---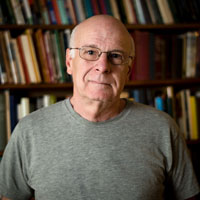 Marc Harshman's Woman in Red Anorak, won the Blue Lynx Poetry Prize and was published in 2018 by Lynx House Press. His fourteenth children's book, Fallingwater, co-authored with Anna Smucker, was published by Roaring Brook/Macmillan in 2017. He is also co-winner of the 2019 Allen Ginsberg Poetry Award. Poems have been anthologized by Kent State University, the University of Iowa, the University of Georgia, and the University of Arizona. Appointed in 2012, he is the seventh poet laureate of West Virginia.