TO THE HAUGHTY VISUALIST by Teniola Tonade
Teniola Tonade
TO THE HAUGHTY VISUALIST
Think terrorism, my appetizer word,
and watch the slide-show of interminable woes.
For balanced main course, I'd serve you poor
then sad, and oh—there's got to be
a drink—think blood. Your plate is full
of images you love? Still, my steward's training
says I must serve dessert. So, think Africa; and
I say: dream America. I guess I'll pack my plates
away, and leave you, as all men must be,
alone to your purging now.
---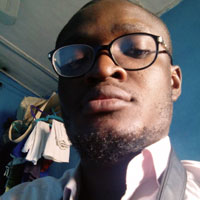 Teniola Tonade is currently pursuing a Master's Degree in Philosophy at the University of Lagos, where he is also a Graduate Assistant. His work has appeared or is forthcoming in many places, including Gargoyle, Word Riot, Tinderbox Poetry Journal, Elsewhere Lit-mag and More Than a Number: Poems and Prose for Baga, an anthology that addresses the menace of terrorism in Nigeria. He is co-founder and managing editor of the multi-purpose website Afrikana.ng. He believes that axiology—the assignment of values to things and causes—is the first, unrecognized human discipline.
 Image credit: Robert S. Donovan on Flickr