LEE THE BAPTIST by Ushshi Rahman
Ushshi Rahman
LEE THE BAPTIST (These ceremonial daggers read 'Tandem Triumphans')
thanks for putting up
with my meat cleaver tendencies — hooligan saviour
better pray for your kin, where the black cake soil
of lament frosting has taken you.
you will fall from this chair
brown belt darkened
backseat-leather-cracked
what shall happen
instead?
latticed lace envelops the sinews of your cranium
left side reads "Going nowhere"
right side reads "fast"
someone might demand my cutout flowers destroyed.
i've walked this room in embroidered loops
bathing in this choke
curdled-milk-grain-air
tender as the seafoam gathered upon the rocks
gaping mouths of children rising
squirt all trash in mounds.
Mahaal'deeb, I pray, darling
these Manta Ray sins of mine
Numberless
never harmed you.
let them know I am glad to go.
---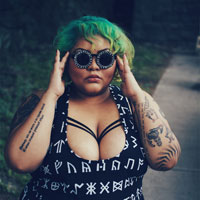 Ushshi Rahman is a Bangladeshi poet who currently resides in New York City where she exists at the intersection of styling words and garments. She attended The New School, and her work appears or is forthcoming in DuKool Magazine (as the poetry contest winner), 12th Street Journal, and Caravel Journal.
Image credit: Sean Stratton on Unsplash