THE PRIZE FIGHTER by Lyn Chamberlin

THE PRIZE FIGHTER
by Lyn Chamberlin
She would go to Paris.
When this was all over, this is how she would start again.
But today she would go back to caring for him, undo the hook and eye they'd put on the outside of his bedroom door so she wouldn't find him in the middle of the night peeing into the kitchen sink or looking for the knives she'd stashed in her car.
When she unlatched the hook in the morning—she wasn't sure how much longer it would hold, it was already loose—she would find him dazed, poised like a prize fighter in the middle of a ring, hands clenched in ready fists, feet in a "come get me" stance, his eyes wild and frightened.
He didn't recognize her until he did.
Sometimes, she felt noble and kind.
On good days—hers, that is—she became the person she wanted to be. Stoic. Sacrificial. Indifferent to the melted ice cream pint in the oven and the television remote he thought was his phone, a leg into the arm hole of his t-shirt, the car keys, his, gone.
Days of rage and calling out. But to whom?
When he could still remember that the trash was Tuesdays, that the blue bin was for recycling, the green for everything else, she was hopeful. The neurologist called it "executive function." Blue means this. Green means that.
Until the morning she found him kneeling on the front lawn, sorting through chicken bones, rank paper towels, rusty apple cores and frayed orange rinds, crusted yogurt cups, and greasy crumpled tin foil, staring at the array that lay all around him.
As children, they had fished for minnows on the Farm Creek bridge. String tied around the mouths of brown Borden's milk bottles. Wonder Bread for bait. They threw crabapples at passing cars. He ran away before the car could stop.
He liked to confess things to her mother at the white formica table in that split-level Connecticut ranch with the sunken living room, next door and identical to his, after school.
Her mother drank Scotch and made him baloney sandwiches. She hadn't known that.
These were the stories he could remember. As if she didn't. Again and again.
Someday she would forgive herself for not loving him better. Wasn't that what love was, really? Spoons didn't have to be with spoons. So what if she had to tie his shoes?
Him. An empty bottle. Staring at the water as it seeped into the rug. As if it wasn't too late to get it all back in.
---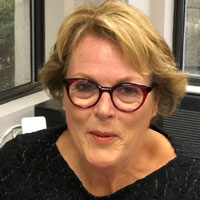 Lyn Chamberlin is a writer and consultant living in Connecticut whose work has appeared in The Boston Globe, The Potomac Review, and elsewhere across the web. She holds an MFA from Vermont College of Fine Arts. Lyn's flash nonfiction piece "The Prize Fighter" was a finalist in Cleaver's 2022 Flash Contest.