BLOODSUCKERS by Zach Fishel
BLOODSUCKERS
by Zach Fishel
Having sliced mosquitoes
From the air all week, he sits with mail
Neglected like the quiet granite
Of New Hampshire. The enormity of moths
is felt here. Thinking of the letters.
That even in this loneliness there
is body to be held. Remembering the time spent
with another, like practicing how to use the right hand
to undress secrets, nervous until the curves
become the angry smiles of highway waitresses.
We tear through each other so quickly
the language of stillness has lost itself. A solitary
motion of the wrist, a quick release,
splatter on the neck from the biting.

Image credit: Anja Jonsson on Flickr
---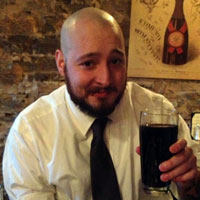 Zach Fishel was born in Central Pennsylvania, but resides in the Berkshire Mountains working as an outdoor educator. His poetry has appeared in numerous journals and has earned two Pushcart nominations. He is the author of two chapbooks, available exclusively through NightBallet Press, and his first full-length will appear in April 2014 from Red Paint Hill Publishing.