RITHIKA MERCHANT, Works on Paper: Comparative Mythology

RITHIKA MERCHANT
Works on Paper: Comparative Mythology
I began working on a series of paintings dealing with Comparative Mythology about two years ago. My work explores the common thread that runs through different cultures and religions. Similar versions of many myths, stories and ideas are shared by cultures all around the world. I use creatures and symbolism that are part of my personal visual vocabulary to explore these narratives.
I am currently continuing in the same vein but focusing now on a branch of Comparative Mythology that deals with Joseph Campbell's theory of the Hero/Monomyth. The Monomyth refers to the journey of the Hero. There is a pattern that involves seventeen steps that the hero passes through during his journey.
The seventeen step journey is spilt up into three phases– the departure, the initiation and the return.
This pattern is found in many narratives from different cultures and religions and time periods. I am making a series of paintings based on this, but I am re imagining this story from the perspective of the Heroine instead. It is my personal and contemporary interpretation of this theory.
Supernatural Guides is the third step of the departure phase. My Heroine has encountered her supernatural helpers, who will guide her and help her when she is in need.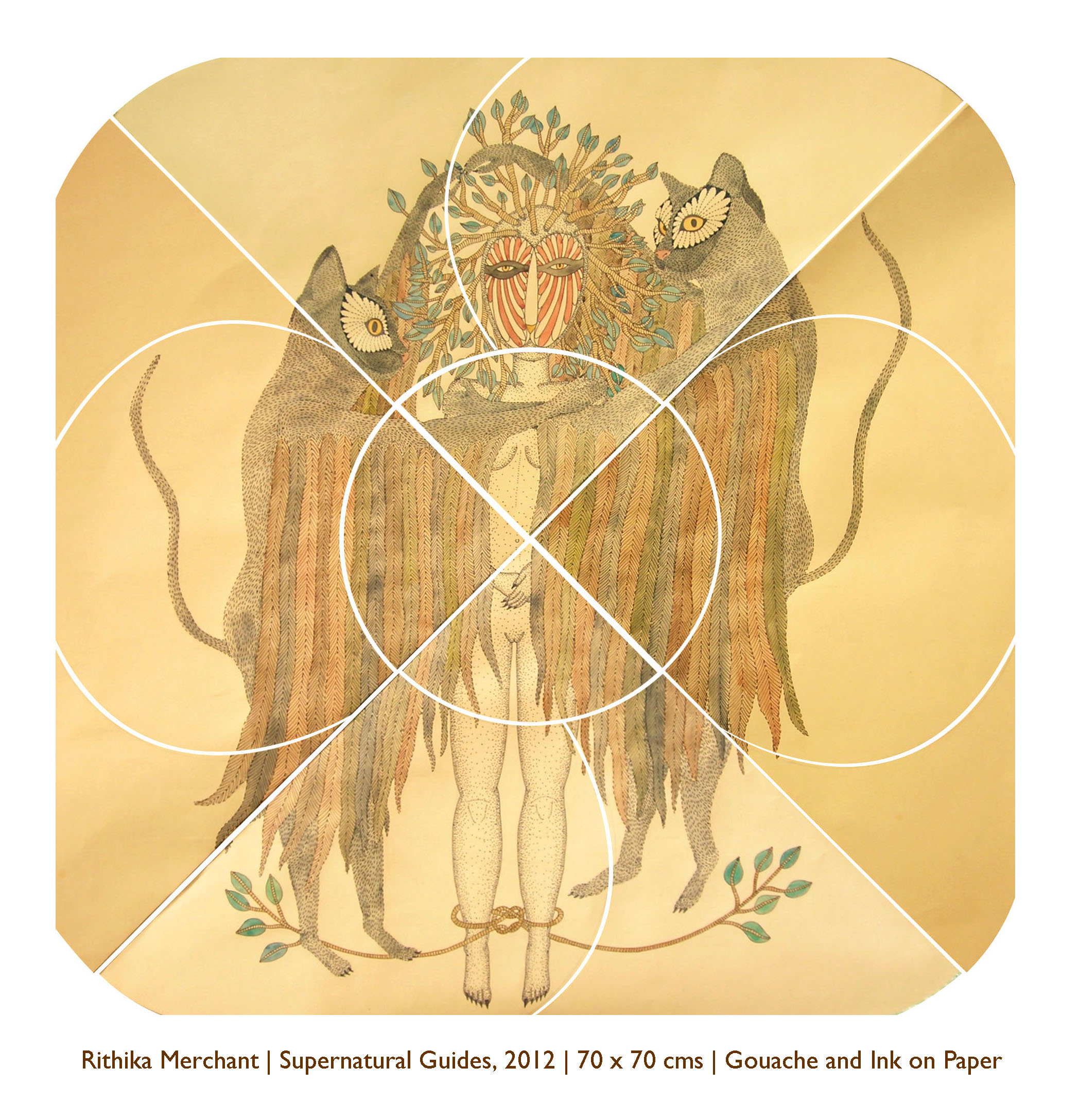 Meeting With The Goddess and Apotheosis are both part of the initiation phase. In Meeting With The Goddess she encounters the all powerful unconditional love of her mother. It is her return to her creator to which is inextricably linked and whose power fuels her.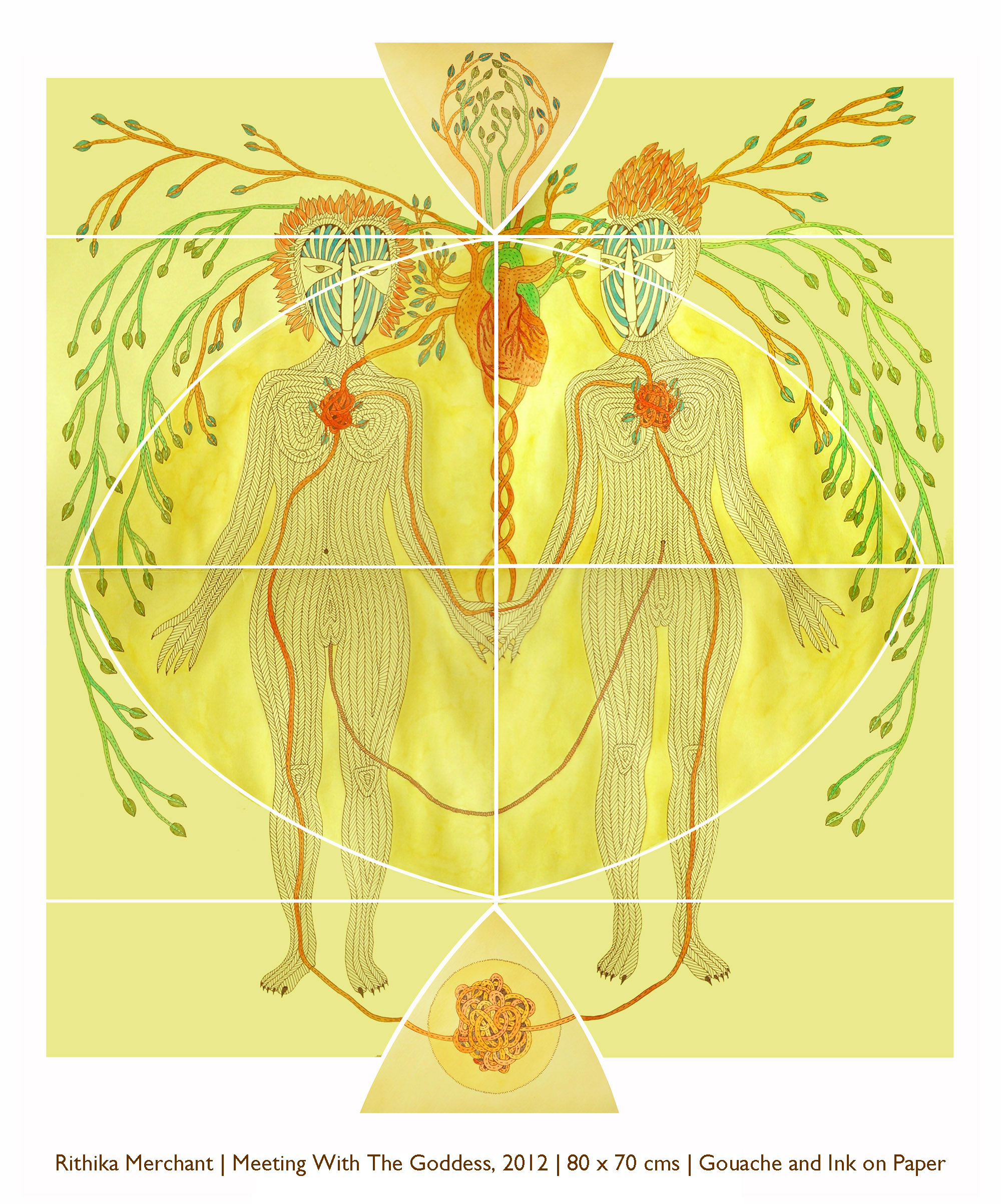 Apotheosis is the period of rest in the journey, right before she begins her return. The heroine takes the time to enjoy the peace and fulfillment of her journey so far. She is seen leaving behind the material realm and ascending to the spiritual realm.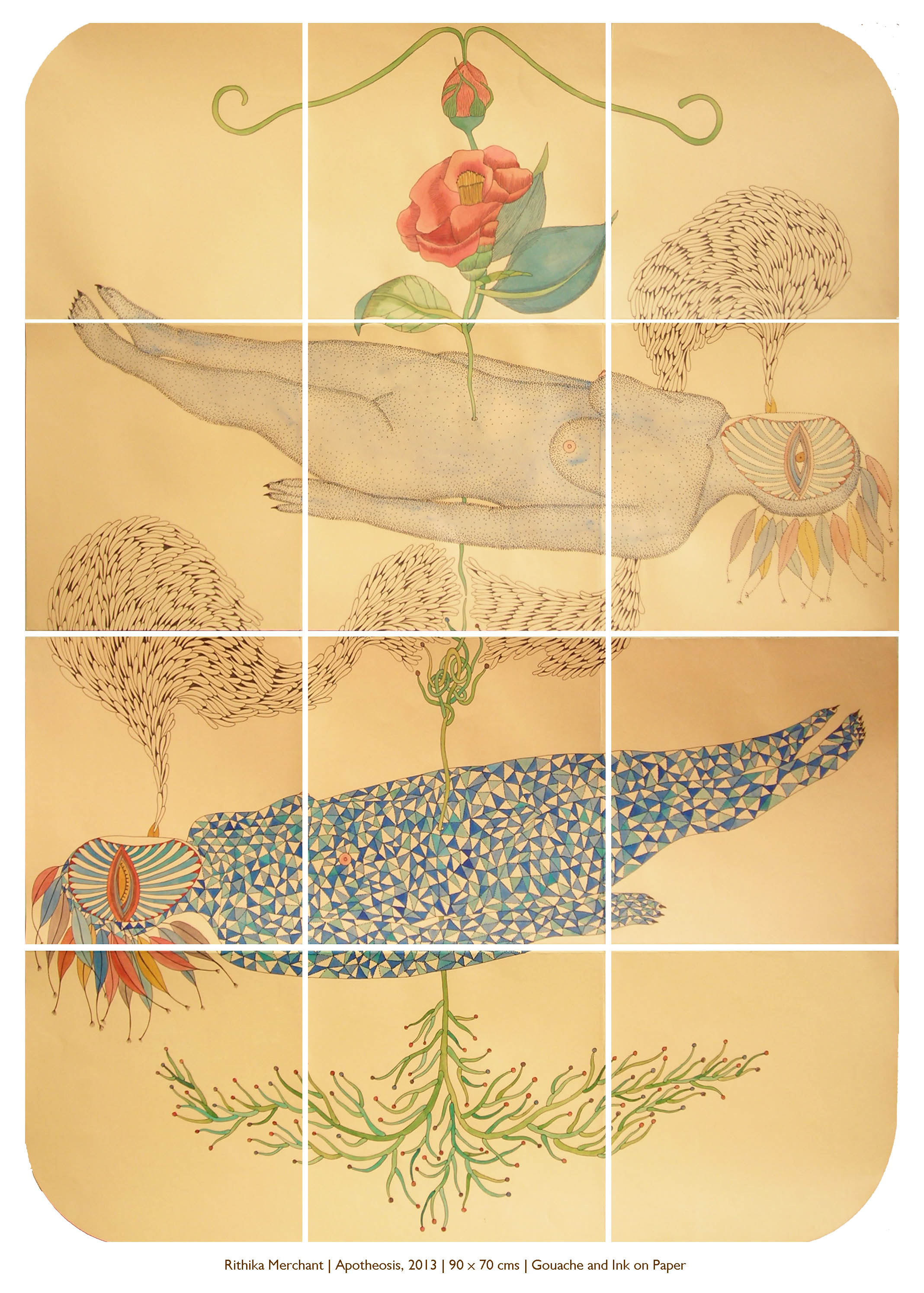 The Magic Flight and The Return are both part of the return phase. In The Magic Flight she must escape with the boon she has fought for. She is able to make her escape, closely guarding the boon while the baser creatures who only value power, fight over it.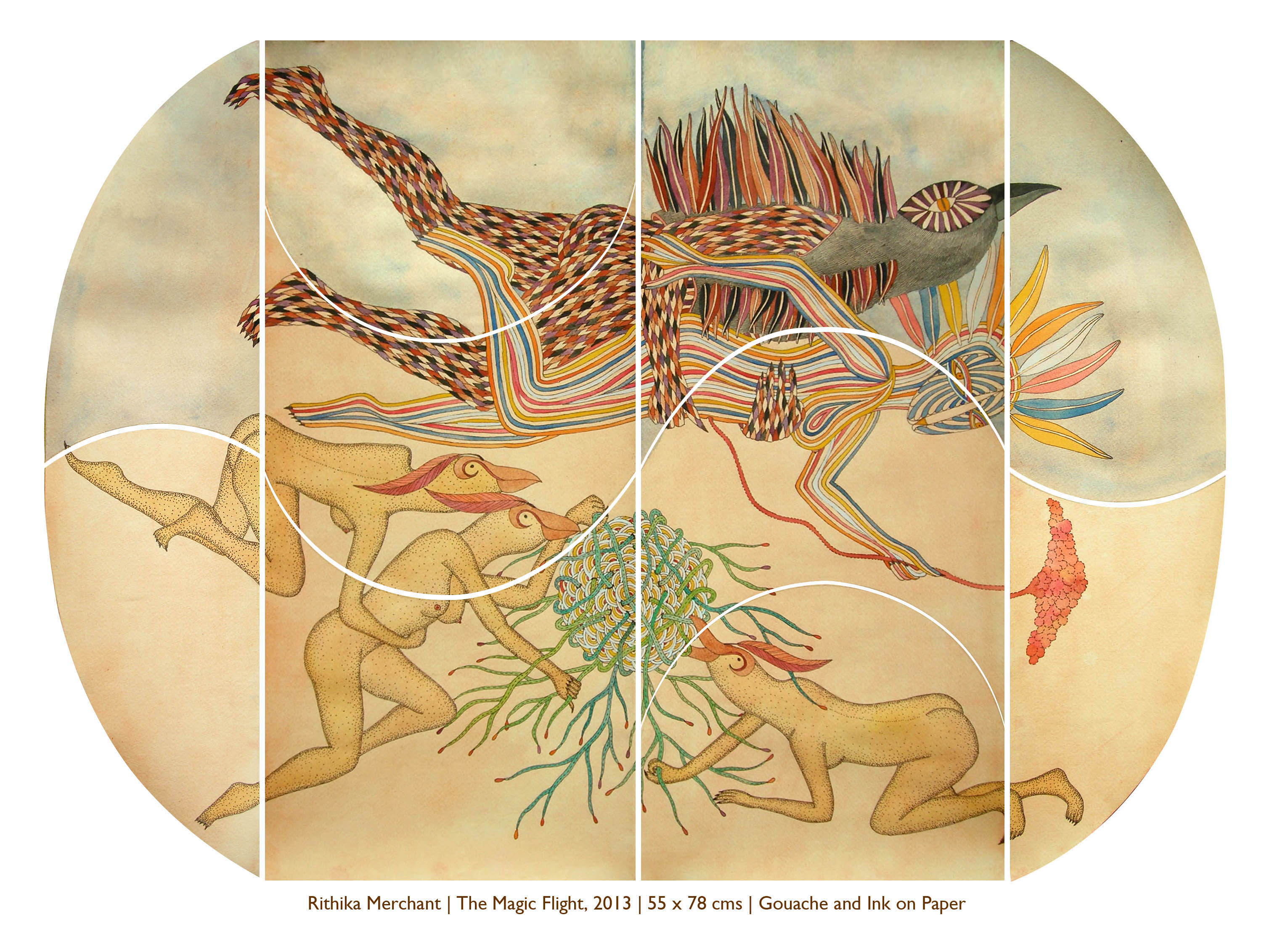 As she reenters the world, she is now faced with figuring out how to share and integrate the wisdom her boon brings with the others. In The Return she offers the boon to the masses, which symbolized by smaller simpler versions of herself who are similar to her state in the material realm of Apotheosis.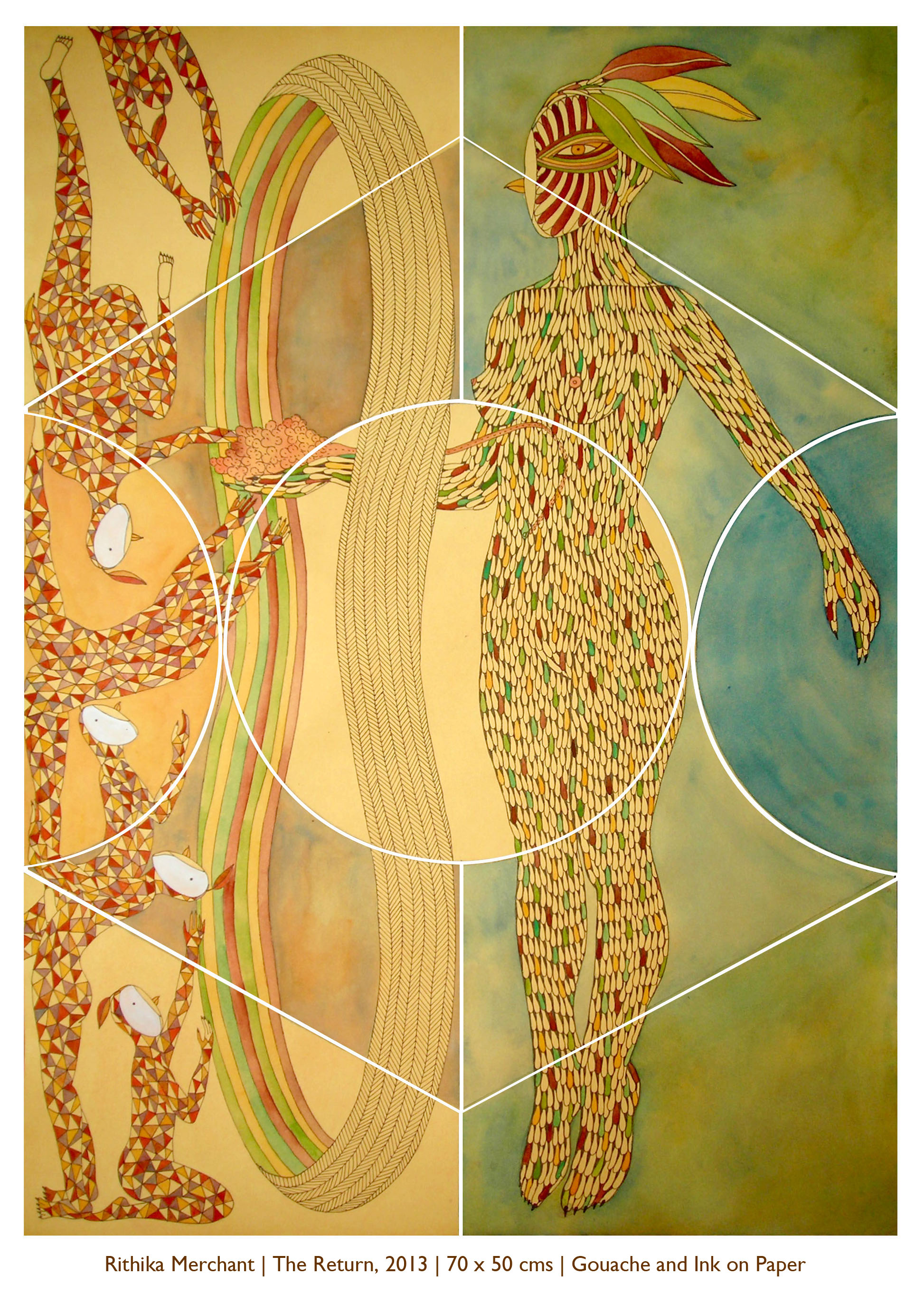 Through the course of her journey, my Heroine transforms her state. Her colours and patterns reflect her inner being as well as the outside influences. Sometimes two versions of her are shown the same time and demonstrate her evolution from one state to the next.
Supernatural Guides, 2012, 70 x 70 cms, Gouache and Ink on Paper
Meeting With The Goddess, 2012, 80 x 70 cms, Gouache and Ink on Paper
Apotheosis, 2013, 100 x 70 cms, Gouache and Ink on Paper
The Magic Flight, 2013, 50 x 70 cms, Gouache and Ink on Paper
The Return, 2013, 70 x 50 cms, Gouache and Ink on Paper
–Rithika Merchant
June , 2013
---
Rithika Merchant is an Indian visual artist. She was born in 1986 in Mumbai, India. She graduated with a BFA in Fine Arts with Honors from Parsons the New School for Design in New York City in 2008. In 2006 she traveled to Greece to study painting and conceptual art at the Hellenic International Studies In the Arts in Paros, Greece. Following her graduation, Rithika has exhibited widely in Europe as well as select venues in Mumbai, New York and Montreal. She had her first major solo exhibition in Mumbai in 2011. The following year she was represented as a solo art project at Swab Art Fair in Barcelona, Spain. Rithika is currently preparing for her second solo exhibition, which will open in October 2013 in Mumbai. She divides her time between Mumbai, India and Barcelona, Spain. See more of her work at www.rithikamerchant.com