FUJIKO NAKAYA, FOG ARTIST by Myra Lotto
FUJIKO NAKAYA, FOG ARTIST
by Myra Lotto
On the last Saturday morning of April, my husband and I put our two young children in the car for the hour-long drive to New Canaan, Connecticut. We were on our way to attend the opening event for my aunt Fujiko's newest art installation, Veil, on display at architect Philip Johnson's former residence and National Trust Historic Site, the Glass House.
Fujiko Nakaya, or "Fuji" as her family calls her, is an artist working with fog as a medium. As many times as I've described her work, I am always surprised by what should be, by now, a predictable reaction of bewilderment. That morning, my five-year-old son was no different:
"But Mommy, how does Fuji make fog?"
"She uses nozzles to turn water and air into fog.
"Can Fuji make ice like Elsa from Frozen?!"
"No, just fog."
Across a forty-year partnership with Mee Industries, a fog nozzle company, Fuji developed a technology and art out of spraying potable water into the air, creating natural water fog clouds that can hover, billow, or flow away in response to existing environmental conditions. Mee's nozzles are found in grocery store produce cases, greenhouses, and other spaces that need to maintain consistently high levels of humidity. Like most of us, my son had seen this technology many times, but not yet understood it as art.
At the Glass House, Fuji's Veil shrouds the house for 10 to 15 minutes every hour. The small, rectangular, transparent building vanishes under the cloud, peeking out, disappearing, and reappearing as the fog dissipates. As I approached the entrance, I watched the fog flow quickly past the building, reacting to a strong gust of wind. I shuffled slowly to prevent slipping on the slick walkway as my son sprinted past me, running full speed into the mist.
The adults laughed nervously, responding to our own temporary blindness, hoping not to bump into each other or into the glass. My son's laughter was of quite a different sort. Once inside, the volume of the fog's moisture was apparent. Streams of water cascaded down the outside walls, which were mostly opaque. Johnson's sparsely furnished residence has only a bed, sitting area, dining set, a small service kitchen, and little else. The house, with views of the landscape in every direction, boasts "expensive wallpaper," as Johnson once called it. Turned white with fog, the space felt suddenly tomb-like.
The Glass House, the surrounding buildings, and the 49-acre property are a mix of contrasting aesthetics. Classical and modern influences combine, uniting the austerity of Palladian architecture with the sculpted nature of eighteenth- and nineteenth-century landscape painting. Into this mix, Johnson inserts spare, angular buildings like Da Monsta, completed in 1995, a black and red behemoth, almost cartoonish in appearance, drawing on German Expressionist design.
Veil enters this hybrid landscape as an equalizer, seeming perfectly at home against a natural backdrop or swirling around the foot of a bunker-like, minimalist house with expensive wallpaper. A cloud feels disorienting to the person standing inside of it. Viewed from afar, fog creates a preternatural scene, rolling across the ground as if the sky had fallen. Humorous in either context, Fuji's fog relies on nature as its ally and ultimate designer.
◊
Fuji's first sculpture was presented at Expo '70 in Osaka, the first Worlds Fair in Japan, which was organized on the theme of "Progress and Harmony for Mankind." In late 1968, Fuji was surprised to receive a call from engineer and Bell Labs veteran Billy Klüver, who wanted to hire her as the local coordinator for the Expo '70 Pavilion.
Fuji had heard of Klüver by reputation. An important figure in the art world, Klüver was director of Experiments in Art and Technology (E.A.T.). Klüver had heard of Fuji as well, from Robert Rauschenberg and David Tudor, who accompanied the Merce Cunningham Dance Company to Japan in 1964; she had been enlisted to help with local performances.
In Rauschenberg, Fuji found a close friend who invited her to his home whenever she was in New York. He loved Japanese food, and with so few Japanese restaurants in the city at the time, she would buy fish at Fulton Street Fish Market, whipping up her own versions of Japanese dishes in the antique kitchen of Rauschenberg's studio on Lafayette. Rauschenberg, in return, treated her to Texas-style stew with chunks of beef, beans, and tomatoes that had simmered on the stove for hours.
Rauschenberg and Tudor had collaborated with Klüver since the start of E.A.T., hosting press conferences, exhibitions, and occasionally bankrolling the project. As E.A.T. grew, so did its ranks. Performance artist and Robert Whitman and engineer Fred Waldhauer were also founding members; the eventual roster of artists included John Cage, Lucinda Childs, Öyvind Fahlström, Deborah Hay, Steve Paxton, and Yvonne Rainer.
Klüver, a magnetic personality and a person of seemingly bottomless creativity, also became a dear friend. He passed away in 2004, but Fuji still recalls with great fondness how she could rely on him to think with the objectivity of a scientist while still being moved by the beauty of humanistic thoughts and practices. Klüver was a democratic thinker confronting an American art scene very much associated with capitalism. He always operated in the spirit of democracy, where he grounded his aesthetics and his practice.
E.A.T. was founded to promote collaboration between artists and engineers, providing the research and infrastructure necessary to realize challenging, interdisciplinary projects. The goal was not simply to convince engineers to lend their technology to artists, but instead to find opportunities for genuine collaboration. John Cage described their work as "not about artists and engineers talking; it's about hands on, working together."
With only eighteen months left before the Pepsi Pavilion was due for completion, E.A.T. sent their artists and engineers to work on site in Osaka. In subsequent months they made more than 100 trips between New York and Osaka.
Artist and filmmaker Robert Breer, Whitman, Tudor, and sculptor Frosty Meyers designed the Pepsi Pavilion, with Kluver, Waldhauer, and Rauschenberg contributing. Their idea was to build an exhibit encountered through sensory perception. They hoped to overcome the conventional relationship between artist and audience—ending the practice of showing and being shown—by providing a live environment filled with sounds and images where people could form their own experiences. The exhibit would react to its visitors, transforming itself.
The Pepsi Pavilion was designed as a white, spherical, air-structured balloon, with an internal mirrored surface, requiring maintained air pressure, durability, and a strategy to deter vandalism. It measured 27 meters in diameter: the largest spherical mirror ever attempted. In theory, images should appear as holograms in mid-air, just one of a range of optical effects that would occur inside the dome.
Breer designed seven white, dome-shaped moving sculptures, placed on the plaza in front of the Pavilion. Their movement and sound were barely perceptible, but they would immediately change direction when they encountered something. Meyers designed a triangular mirror to follow the sun, reflecting its rays onto the Pavilion.
Early in the design process, the artists decided to shroud the Pavilion with an artificial cloud. Fuji quickly took interest and volunteered to assist. Her late father, my grandfather, formerly a low-temperature physicist at Hokkaido University, left Fuji with relevant contacts at the Department of Meteorology. Klüver immediately put her in charge of the cloud. She began the long process of learning. Was it possible to create and maintain a large amount of natural water fog outside, at the peak of summer? If so, how?
There are many ways to generate artificial fog, but most cooling methods are prohibitively expensive. Dry ice was not feasible with such quantities; it would have posed a hazard, expelling CO2 and attracting mosquitos. Fuji decided it would have to be natural water fog, so she embarked on a search for a fog spraying system, but could only find sprayers to produce a misty rain. The 20-30 micron diameter droplets of water required seemed impossible to fabricate. Although she expressed concerns, Klüver remained optimistic.
In May, Fuji began a series of experiments on-site, using a model of the topography surrounding the Pepsi Pavilion, testing wind patterns via wind tunnel simulation. By June, Klüver had located Thomas Mee, whose company had just developed an artificial fog made with ammonia and chloride, used for farming. Fuji insisted the fog be breathable, so that people could play in it, so she asked Mee to modify his system for use with potable water. Shortly after, her first fog sculpture was realized.
◊
In the decades since Expo '70, Fuji has produced more than 50 fog installations and performances featuring natural water fog, including 14 permanent installations. Her Fog Sculpture #08025, "F.O.G." is installed at the Guggenheim Museum in Bilbao, cleverly named for the architect of that building, Frank O. Gehry. Fog Sculpture #94925, "Foggy Wake in a Desert: An Ecosphere," is a permanent installation in the Sculpture Garden at the Australian National Gallery, Canberra.
Asked to describe her art, Fuji immediately notes its whimsical nature. Fog conceals features of a landscape, hiding them from sight while also rendering the invisible as visible. She designs her pieces to obscure, like the Glass House, but she is also conscious of what her clouds reveal: the pathway of the wind, the humidity of the atmosphere, and the environment to which her art responds.
Fuji's art also reveals a prejudice against fog. As a potential hazard to travelers, fog is assumed to be disruptive. It is something to avoid and view only at a distance. Aerial photography of cloud cover is stunning from afar, but up close a picture of fog looks like a photographic error: white, blurry, and overexposed.
The first time I saw a fog installation in person, I was in my late teens, and throughout my childhood, "fog art" and "fog sculpture" had sounded completely absurd. Language, I later realized, had failed to describe an art so powerful as to blind and deafen its audience, entering the body with every inhalation, covering the skin with a thin sheet of water.
Instinctively, adults do not know how to react to fog, but children do. Those who visit Fuji's installations are charmed by the immersive, multi-sensory experience. For the young ones, it can be terrifying and liberating. Finally, something they are encouraged to touch, where play is an integral part of appreciating the art. For the grown ups watching them, it is similarly novel.
Veil is Fuji's second recent installation in the U.S., following Fog Bridge #72494, installed in April 2013 for the opening of the San Francisco Exploratorium. Until recently, few had heard of her work, and with so many barriers of description and access, even fewer could experience or understand it. But following these installations and an extremely successful project at Paris's Place de la République, titled Fog Square (2013), Fuji is busier than ever as the size of her audience swells.
Social media technologies and camera phones have played a role in popularizing fog sculpture and making it accessible to global audiences. Visitors are obviously enchanted and eager to communicate the feeling of stepping into the fog. But when Fuji visits one of her installations, it's the children she likes to watch: they are her most ardent fans. She knows that children love something about fog that the rest of us have outgrown. When children step forward, they are delighted by how the fog steps back. They dive in as the fog wraps around them. When they look, it hides. When they chase, it disappears. When they emerge, they're typically soaking wet, a bit breathless, and flushed in the cheeks. But they are happy, and so is she.
Veil is on display at the Glass House through November 30, 2014.
---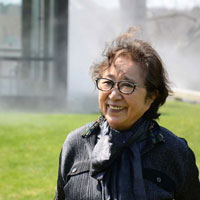 Fujiko Nakaya is an artist living in Tokyo, Japan. Her sculptures can be found in art museums, parks, theaters, and public squares around the globe. Representative works include Foggy Forest at Children's Park in Showa Kinen Park, Tokyo (1992), and installations for the Yokohama Triennale (2008) and the 18th Biennale of Sydney (2012). In addition to her work with fog, Nakaya has long been regarded as a pioneer of video art in Japan. Since 1971, she has created video artworks based on the theme of communication. In 1972, she co-founded VIDEO HIROBA, Japan's first video art collective, and in 1980, she opened Video Gallery SCAN in Harajuku, Tokyo, where she organized workshops and competitions to promote young video artists. For four decades, SCAN hosted video exhibitions and international festivals for cultural exchange. Photo credit: Nelson Oliveira/New Canaan News
Myra Lotto is a scholar and teacher living in New York City. She writes about about rural-themed literature of the eighteenth and nineteenth centuries, landscape and garden architecture, laboring-class literature, and disability. She has taught courses on British Literature, poetics, writing, and communications at the University of Pennsylvania and Columbia University. Her ongoing pedagogical interests involve forming communities to promote learning and employing interactive technology in early childhood education.
Videos:
Veil by Fujiko Nakaya at Philip Johnson Glass House, courtesy Myra Lotto
Fujiko Nakaya: Veil. Fog Installation at The Glass House, by Heinrich Schmidt, courtesy VernissageTV
Fog Sculpture by Fujiko Nakaya at Toyota Municiple Museum of art in Toyota, Aichi
Fog Sculpture by Fujiko Nakaya for Dynamo at the Grand Palais, Paris
Image Credits: Wikipedia, except where noted.