LAB CHILD THEOREM by Deborah Purdy
LAB CHILD THEOREM 
by Deborah Purdy
Automatic habit
like a rifle, pistol
or pilot, the
beach doll hermit
told him to hold
the bracelet, the
bracelet told him
to blame the rich hotel,
the cloth heir,
the rambling hot chili.
He touched the
bridal cloth hem
and breathed in the
child moll—
the label torched him
label child mother
blame cloth hider
blame child other
beamed torched hill.
---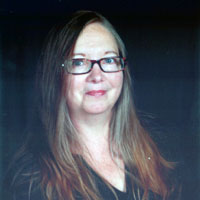 Originally from Virginia, Deborah Purdy now lives in the Philadelphia area where she writes poetry and creates fiber art. She earned BA and MA degrees from Hollins University, and an MSLS from Clarion University. Her poems have appeared in Apeiron Review, The Milo Review, The Found Poetry Review, and other publications.
Image credit: Petealward on Flickr