from FLIGHT OF AUGUST by Lawrence Eby
from FLIGHT OF AUGUST
by Larry Eby
6.
A desk melts into the tile floor, the windows
cracked and browning. A forest of homes
caught fire to dry cold,
lightning struck
Joshua tree,
build the fire, son
build the fire, son
chilled wind is a devil's claw.
No one is clean out here. Among
burning pines, ashen snow mixed in the bottle
earth
is.                     Crows nest atop
                         streetlamps, cawing
at the last frozen hand stuck
to the curb's edge.
No is loud out here. Echoing
off windows,

echoing
breaks the icicles from the eaves.
A fire in the distance
counts victims.
9.
Billowing endless
         clouds            smoke.            dried up forest burning,
         burning
the last hovels from the branch-elbows.
                                            Magazine
                                            Pen
                                            Dressings
            in the ignited sedan, a body down the path
            with a broken leg. There are ghosts
somewhere inside these mounds of leaves. A cabin
is not vacant. Occupied with the still and settled
dust. Jiggle the knob crank the
            door. A candle burns atop the stove a
fleshy smell. There's someone here breathing-
                                                          in the rest of the air.
12.
There's a camp in the woods
where the breathers gather. Their chests
pulse together fueling the fire
dead heaped and wrapped. They eat
from a fresh harvest
of asparagus and spend the night breeding
in sleeping bags, tents with tears in the flap. These pleasures
locked in the town-fire, the plunder
of those who strip brass from the pipes. The cold creeps
        in, sucks
life from inside
their wombs. A boy scrapes a maple
             with his knife to the frozen
syrup underneath.
---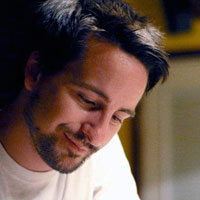 Larry Eby is the author of two books of poetry, Flight of August, winner of the 2014 Louise Bogan Award from Trio House Press, and Machinist in the Snow, ELJ Publications 2015. His work can be found in Forklift, Passages North, Fourteen Hills, Thrush Poetry Journal, and others. He is the editor in chief of Orange Monkey Publishing, a poetry press in California.
Image credit: timlewisnm on Flickr