STUDY TO BE QUIET by Bruce Alford
STUDY TO BE QUIET
by Bruce Alford
I live, I say, and language lays itself open
through the movement of the earth: green-gold grass
upright, virginal flowers, husky insects secretly
courting life; shadows, cirrus touching, trailing off ice
crystals in cloud, falling in long streamers; traffic going
by, the exaltation of finding that field at the edge of town.
---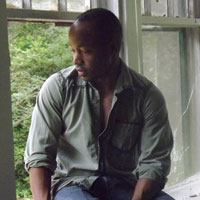 Bruce Alford is a former journalist turned creative writer. His work is informed by a Southern Missionary Baptist tradition and often explores the tensions between religion, place, and literary history. Alford currently lives in Hammond, Louisiana, and teaches American literature and English composition at Southeastern Louisiana University. His first book of poems, Terminal Switching (Elk River Review Press) was published in 2007. Alford is a reviewer for First Draft, a publication of the Alabama Writers' Forum, and The Black Scholar, and has published fiction, creative nonfiction, and poetry in numerous journals.