33 DAYS by Léon Werth reviewed by Nathaniel Popkin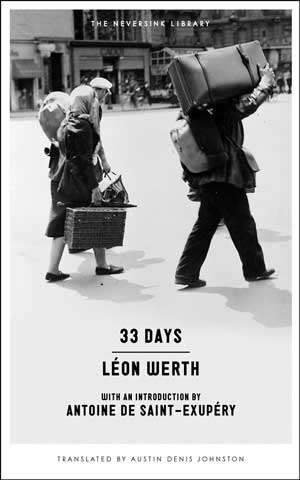 33 DAYS
by Léon Werth, with an introduction by Antoine de Saint-Exupéry
[translated by Austin Denis Johnston]
Melville House Publishing, 116 pages
reviewed by Nathaniel Popkin
There are occasions when a phrase or a paragraph or a book hits the main line and after the dose everything is different.
33 Days arrived in the mail ten days ago, on a Friday. Guests were coming for the weekend. Already, the city was filling with people. The weather was warm, finally; pink and purple and white flowers garlanded the city. Fragrance smothered street corners. Whole neighborhoods were ripe for seduction.
The book, slender and impeccably designed, put itself in my hands. I gazed at it quickly then put it down on the cushion in the old grocery store window where in winter we take turns stretching toward the sun. I picked it back up. I hadn't heard of Léon Werth. But Saint-Exupéry—we forget Saint-Exupéry at our peril.
Still, with masses of people sweeping by the window just as the leaves do in autumn, I skipped the introduction, which Saint-Exupéry wrote in late 1940 to accompany both French and English versions of 33 Days. I went straight for the narrative itself, a memoir of Werth's flight, along with his wife, Suzanne, from their Paris apartment in June and July 1940 to their country house in the village of Saint-Amour, in the Jura region north of Lyon.
In the morning of June 10, 1940, Werth, a Jew and a leftist, met a friend, "Tr.," on the Champs-Élysées to assess the situation in the city. Rumors of a German invasion had been intensifying. Could it be true? A sprinkler was watering the lawn along the center of the boulevard. "This sprinkler makes us think childish thoughts," Werth wrote,
it gives us confidence: "If things were that serious, they wouldn't think of watering the grass…"
War's initial days, particularly, overturn, disrupt, and confuse. This surreal state is the subject of 33 Days. Some eight million people fled German occupation in June, 1940, one of the greatest mass exoduses in human history. L'exode is hardly recognized in the United States, in part because this book has never been published here until today. Werth, the author of more than two-dozen books of art criticism, memoir, and fiction, met Saint-Exupéry in 1931. Their friendship was permanently disrupted by the German invasion, when Saint-Exupéry, with Werth's manuscript for 33 Days in hand, went to New York to lobby for American involvement in the war. There, he convinced Brentano's, the bookstore and publishing house, to publish the book in English. In occupied France no Jew was allowed to publish. But while Saint-Exupéry wrote Le Petit Prince, which he dedicated to Werth, while living in New York, Brentano's never published 33 Days. The manuscript was thought lost until 1992, when it was published in France; Saint-Exupéry's plaintive introduction was only just discovered last year by Melville House, which has put it into print for the first time.
At nine in the morning, June 11, Werth and his wife headed south from Paris. Traffic didn't seem terrible. Their son, Claude, who was fifteen, had left a few hours earlier with friends. Claude's unknown fate, a kind of accidental metaphor for the future of France, hovers anxiously over Werth's lucid description of the journey. Expected to last eight hours, it took, amidst the massive caravan of exiles trying to flee German guns, thirty-three days.
Mid-way through the first day on the road, Werth learned that Russia had declared war on Germany. Things were getting real. He wept with the female gas station attendant who told him the news. Soon, they ran into military roadblocks. They had to follow detours right into a caravan of other exiles backed up for miles. For days, they sat in this traffic. "We stop, we start again, but each restart becomes a problem," Werth wrote. "After several hours it's exhausting. It's nerve-racking. The gravity of the moment means little. Less so as the gravity of the moment and mechanical worries combine. We are afraid of breaking down."
Werth's style is hallucinatory. The words drip forth as the cars creep, as time loses meaning. "The caravan moves and creaks like the chain of a well. It has neither beginning or end," he wrote. But to stay alert, Werth sharpened his gaze; his gaze is for Saint-Exupéry, for whom he was certainly writing, his gaze is for us, three-quarters of a century later. "I enter a café," he recorded,
Refugees, like flies around a packet of sugar, crowd around the proprietor, who half fills the glasses they hold out to him with pale coffee. For the first time I hear the words, uttered by a drowsy woman with a sullen face: "France is betrayed."
The aim of the caravan was to cross the Loire River. The German military could take Paris and all of the north, but they wouldn't be able to overtake the Loire. This was conventional wisdom in the early days of the journey. French soldiers seemed to be heading south as reinforcements. But all of a sudden, there are German soldiers everywhere. In this moment, Werth's his sharp gaze encountered a stone wall of confusion. These were familiar roads, but amidst gunfire and dying horses and broken down cars, Werth and Suzanne, and the millions of others, began to lose their bearings. "That's when," wrote Saint-Exupéry, in the introduction, "the real journey outside oneself begins."
Outside of time and normalcy, Werth confronted a totally provisional world, of France governed above the Loire by Nazis and below it by what he thinks is still "libre" France, by German soldiers who sunbathe nude and by the housewives who hand them glasses of champagne. Werth's own confusion was magnified by the circumstances of moral corruption. For weeks, in the longest period of the journey, he and Suzanne were forced to rely on the pinched generosity of Madame Soutreaux, who let them stay on the grounds of her farm, while she cozied up to the German officers camped nearby.
Werth had for years been an outspoken Bolshevik. He wrote disparagingly of colonialist France's gluttony. And yet restraint is the great moving force of this book. Gentle despair and calm distance produce the moral authority that ultimately transformed Werth from a class warrior into a Gaullist. For now, he trained his eyes on Soutreaux, to try to understand the woman who while feeding and protecting this Jew and his wife from Paris could brag of confidential conversations with German officers. "I only wish to describe Soutreaux as I saw her day by day, kind or contemptible, hateful or ridiculous," he wrote.
Could they continue to take refuge from the abhorrent woman? Some 124,000 French soldiers were killed by the German military and 200,000 were wounded—more than U.S. casualties during the Korean and Vietnam wars combined—during the six weeks of the 1940 siege, but inside the historical moment Werth couldn't have comprehended the true proportion of Madame Soutreaux's moral treason. "One shouldn't judge categorically or translate honor into a written code. It's all circumstance," he concluded, "everything depends on nothing…"
With nothing to steady oneself in this moment of complete upheaval, at least the reader has Werth's intellectual honesty, precision of observation, and sensitivity to particularity. To Saint-Exupéry, he was a lodestar. "Léon Werth," wrote Saint-Exupéry at the close of his once lost, now found introduction,
…I so needed to reassure myself of your presence…so that one of the cardinal points of my world would be preserved. Only then, while wandering distantly in the empire of your friendship, which has no boundaries, could I feel like a traveler and not an emigrant. For the desert isn't where we think it is. The Sahara is livelier than a capital, and the most crowded of cities becomes a desert if the essential poles of life are demagnetized.
This is the skill of a writer, of a man, that so attracted the wise Saint-Exupéry, and that can, in unusual circumstances, turn an author into a necessary interpreter of an increasingly unfathomable world.
---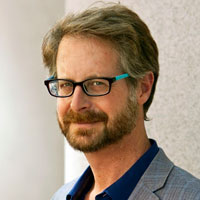 Cleaver reviews editor Nathaniel Popkin is the author of five books, including the 2018 novel Everything is Borrowed, and co-editor (with Stephanie Feldman) of the anthology Who Will Speak for America? His essays and works of criticism have appeared in The New York Times, Wall Street Journal, Kenyon Review, LitHub, Tablet Magazine, and Public Books. If you are an author or publicist seeking reviews or a writer hoping to write reviews for Cleaver, query Nathaniel.