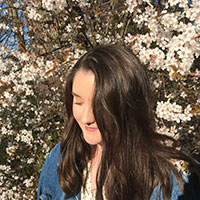 Kendra Jean Aquino is a writer and editor with a B.A. in English & Sociology from Cornell College. She has completed internships for the Chautauqua Writers' Center and Cleaver Magazine, and edits professionally for various web publications. In her free time you can find her reading, writing poetry and creative nonfiction, and spending time with her family and pets.
---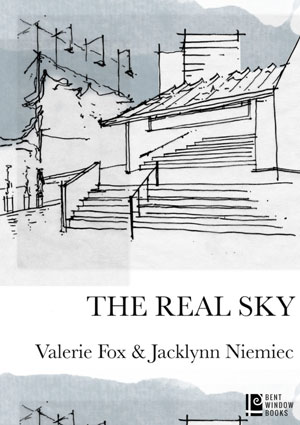 THE REAL SKY
by Valerie Fox & Jacklynn Niemiec
Bent Window Books, 30 pages
reviewed by Kendra Jean Aquino
Within the first few pages of
The Real Sky
by Valerie Fox and Jacklynn Niemiec we meet a theatrical tour guide in a haunted town, a man named Andrew who might turn into someone else at the end of the day, and a mother, covered in plaster, who walks into a field and never returns. Valerie Fox's hybrid writing in
The Real Sky
is unexpected and surreal. Her ten pieces in the chapbook range in style from dreamlike micro fiction to short snapshot-style poems. At any given moment, you may be introduced to a new place, character, or theme. This meandering and fantastical narrative takes the reader on an unpredictable adventure. Throughout
The Real Sky
one is left to question what is real, what is imagined, and where the boundaries of possibility lie. Fox's imaginative work is paired with equally exploratory architectural sketches by Jacklynn Niemiec. She combines harsh black lines, shadows, and pastel watercolors to recreate the spaces that Fox describes in her writing: the house the pet basilisk lives in, the haunted town the tour guide takes us through ...
Read the full text