SEED
by Arya F. Jenkins
I've decided to kill my son. This is not a new thought. It did not come to me overnight. I've nursed it for a long time like an actual thing, a child that was a seedling first and then a sprout, but the idea has taken hold.
I am filled with it. Asher. Gift. Precious boy. Three years on this planet and never a qualm or complaint, refusal or resistance. A child who does not even know how to fight. A miraculous boy who knows what his mother is thinking. Our eyes lock and words, ideas, flow between our silence. I know his heart. And he knows mine.
When he was born, I pushed and pushed, each push a relief for I knew I was giving birth to perfection. Fatherless, but still. I would be there. And fourteen hours later after arriving in the hospital, already three centimeters dilated, he was here. Healthy. His blue eyes, savage, pierced my soul.
My Asher. Healthy, they said. Every day I held him in my arms, dreamed on him. My handsome boy. Asher. Then, when he was one, his little legs swelled one day. He couldn't breathe.
Allergies, they said. Masks, they suggested. Wait and see if it passes.
But it was not allergies. The masks didn't help. And it did not pass.
I am single. One child.  My world. I watched over him. Dedicated, I took my boy, my blue-eyed savage with his soft sweet smile, to hospital after hospital until I heard the truth.
       Atrial Septal Defect.
       A hole in his heart wall.
       Too big. We cannot operate due to the size. But hold out hope. In time, the hole may close.
The hole in Asher's heart did not close. It widened, even as money depleted, and hope withered and died. Some days, all I have are his blue eyes fixed on me, memorizing as I have memorized him.
       Give him all the love in the world. Love heals, works miracles, is what they say now.
Do they not understand he came with all my love, fourteen hours like years. Do they not see my love in his eyes or his love in mine? Do they not know anything?
My son is tired all the time, so tired he cannot walk or speak. Sometimes a mask breathes for him. I hold his tiny cold feet and his limp hands until they are warm, until his eyes full of questions stop gazing at me and close and he sleeps.
They think that like a perfect mother, I will stay here day and night watching over him as he struggles to breathe, watching him gaze at me as shadows crimp my eyes and the unspeakable passes between us.
No more. It is easy. I press his sleeping body to my chest, press into me his entire being, back into my veins, my belly, my history, back until he is just beginning, a part of him separate, just as his father, a night jack of all trades, skips out the door pulling on his t-shirt, just as he drives away and I wait, an expectant mother, for seed to find seed, for something to flower after I open the door.
---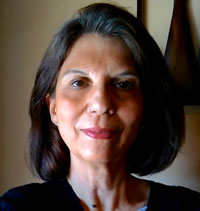 Arya F. Jenkins is a Colombian-American whose poetry, fiction and creative nonfiction have appeared in numerous journals and zines such as Anti-Heroin Chic, Black Scat Review, Brilliant Corners, The Feminist Wire, Front Porch Review, The Matador Review, Metafore Literary Magazine, Mojave Literary Review, and Provincetown Arts Magazine. Her fiction was nominated for a Pushcart Prize in 2017 and garnered three nominations in 2018. Her poetry has also been nominated for the Pushcart. Her poetry chapbooks are: Jewel Fire (AllBook Books, 2011) and Silence Has A Name (Finishing Line Press, 2016). Her short story collection Blue Songs in an Open Key was published by Fomite Press in November 2018 and is available at www.aryafjenkins.com.
Image credit: Leon Seibert on Unsplash