QUASAR
by Triin Paja
do not worry about the bruised dreams
of the night-cafe.
……………………….  place them into glass jars.
look to the coal weeds, the crushed chestnuts,
the shapes gorged with distances.
what you thought for hands: sheaves of lavender.
the seashells turning into roses.
do not worry about your words breaking like dry reeds.
………………………….remember the woman carrying firewood.
the crow who flew into the kitchen.
to remember is to walk in a room of mirrors.
time is the languidness of blossoms,
the sleep of white dahlias.
look to the security guard feeding the pigeons.
the red water of autumn. the sky
……………………………………………..   pulling its heavy yarns.
---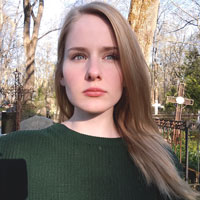 Triin Paja is an Estonian living in a small village in rural Estonia. She writes in various fields, cities, dreams, and countries, sometimes in English, sometimes in Estonian. Her poetry has appeared in BOAAT, Tinderbox, Gloom Cupboard, Otis Nebula, and elsewhere.
Image credit: Clarice Barbato-Dunn on Flickr
"Quasar" has been nominated for the Rhysling award of the Science Fiction Poetry Association (sfpoetry.com). The Rhysling is awarded to the best long and short speculative poems first published in the previous calendar year. (Speculative literature is science fiction, fantasy, or supernatural horror.)