UNDERSONG by Martha Zweig
UNDERSONG
by Martha Zweig
Dawn: eight neighborhood
bullies congregate spoiling to tweak a perfect day.
They stalk tinfoil glints in the gutter & dangle dead moles.
Arise & go to Innisfree, wattles & daubs!
Poetical lovers there surround one another & bristle
like bees busybodying thistles. How, here,
come we to sip, from mother's exquisitest
china pattern, our chipped tea? Trivial effronteries
scrimping a latest grisly luncheon along?
But the day advances pleasantly. Children
scatter to hopscotch back & forth & from pebbles
to butterscotch. Giddy moment: I myself
recompile my list of lost lists as if it dipped
to the breeze & whispered all of its
nothings & negligence along my collarbones.
The bullies rumble & puff. They've busted
everything to bits. Actually we ran home
wailing hours ago. The perfect day
stretches itself out, slackens, curls up, doubles over
& over the bullies, snuggles & licks their scabby
elbows & moon faces to glisten.
---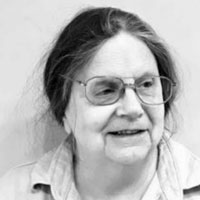 Martha Zweig's latest collection, Get Lost, winner of the 2014 Rousseau Prize for Literature, is forthcoming from The National Poetry Review Press. Previous collections include: Monkey Lightning, Tupelo Press 2010; Vinegar Bone (1999) and What Kind (2003), both from Wesleyan University Press, and Powers, 1976, a chapbook from the Vermont Arts Council. She has received a Whiting Award, Hopwood Awards, Pushcart and Best-of-the-Net nominations, and has published most recently in Slice; Spillway, Innisfree and Superstition Review.