NORTHWEST STALKER by Jan Stinchcomb

Jan Stinchcomb
NORTHWEST STALKER
The truth is, she misses everything from those days, the skirts they wore and the bangs they had, side-swept, always on the verge of disappearing, like youth. Like life. It all slipped away, as her parents had warned her, even the people. Girlfriends you thought you'd have forever, poof, lost to marriage or motherhood or minds suddenly changed. They didn't want to be girls anymore. They moved to other states. They changed their names and lost themselves.
Disappearance can happen so easily. It was her turn, that one summer, when she was still taking the bus home. She was walking to her apartment across a huge parking lot, nearly deserted in the afternoon heat. Done teaching for the day, in her business attire, carrying a briefcase. Good hair. Makeup starting to melt. As soon as he pulled up alongside her, she knew who he was and what he was doing. How could she miss him? His face was on flyers all over town, guest-starring on the local news. This time he was wearing sunglasses and a baseball cap, trying to grow a beard. He had been to her apartment complex before; a woman's screams sliced into her sleep one humid morning.
Hey, do you want a ride?
A ride? (But my apartment is right over there, she thought but did not say.)
Yeah. It's hot, so I figured you might want a ride. (Perfect words, faulty tone. The lie crept out.)
This was her cue. She bent at the waist and leaned in to get a better look. The audition ended there, with her bowing before him, briefcase tapping against her knee, all her lines cut. He knew what she was doing, could already hear her calling the police, though she never actually did. He tore off so fast she couldn't read the license plate.
Sometimes she thinks she should have gotten in the car. If she had sat right down in the mystery, she would have had her answer. The truth can be dangerous but she likes to brush up against it. What if she had chased after the speeding car until the sweat rolled off her? Or she could have ditched her briefcase, jumped on the roof, and held on for the ride of her life, surrendering her hair to the wind. Her favorite scene: throwing her head back and shouting Northwest Stalker!, just to see his face. To show the world she got one thing right.
---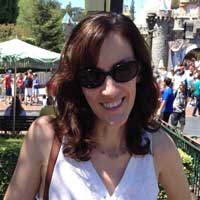 Jan Stinchcomb is the author of The Kelping (Unnerving), The Blood Trail (Red Bird Chapbooks) and Find the Girl (Main Street Rag). Her stories have recently appeared in Wigleaf, Hobart, and Pithead Chapel. She has been nominated for the Pushcart Prize and featured in The Best Small Fictions 2018 and Best Microfiction 2020. She lives in Southern California with her family. Visit her at janstinchcomb.com or on Twitter @janstinchcomb.
Cover Photo by Brianna Santellan on Unsplash