TWO POEMS by Jaewon Chang

TWO POEMS
by Jaewon Chang
Blindness
It began with a stove,
burnt mahogany dissipates in, wishing
the ember hinted the future: mother
running out of her favorite house,
home to the ancestors' cedar trees. She had one last look
at her bedroom door, the one grandfather
painted pink, now dark red. I could only recall
the sound of its opening. I was raised
respecting scars that linger, knowing
they would not recover, the wail
of an old man coiling flames, the burning forests
sprouted in my eyes, planks of cedar etched
on my back. Every story
holds bliss, this story
was my mother alive. Every story
holds sadness, perhaps this story
was my grandfather's. I was raised
knowing, able to see past my blank eyes.
◊
Pandesal
The charred grain edges, infused with
butter fillings, slices of white cheese
wedged in whole wheat, a hint of salt
sifting through openings, a treat Nanay
bought during my birthday. One piece
was considered a feast, enough
to satiate a mind. It was a hero, trailing
a path to provinces, as if arriving
at dark alleyways was happiness.
Nothing is perfect, Nanay says.
Contortions made the taste last long,
for years almost, as if it would erase
our memories of the burning cities.
The tongue would caress a portion,
like a mother covering the ears
of her child during gunshots. I wish
history was like a lily, without hesitation,
rising and floating away.
---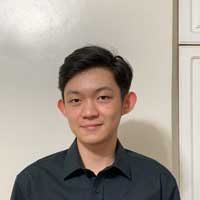 Jaewon Chang is a high school junior living in the Philippines. His works have been recognized by the Scholastics Art and Writing awards on a national level. His poems have appeared or are forthcoming in District Lit, Austin International Poetry Festival Youth Anthology, National Poetry Writing Month Anthology (2020), Ilanot Review, Passengers Journal, and elsewhere. During his free time, Jaewon enjoys traveling the city on foot.
Cover Photo by Kei Scampa from Pexels