NEWS DELIVERY by Smriti Verma
Smriti

Verma
NEWS DELIVERY
Once, my brother set himself on fire, on a cold December morning.
We were sitting on the front porch with a glass of sherry, a skull,
arms, winds. Said: 'my hands, the fingernails, the hair.'
And then, a pause. That was also the winter my mother, sixty now,
came home from Delhi, limping straighter than usual. I gave her
the news, you gave her a cup of tea. And in the corner, my brother's hands-
burnt, yet working. Moving in space. His hair, faulty ends,
sticking out like remnant ashes we forgot to throw away.
My eyes slowly dissolving, and your hand—grounded to bone.
And my mouth, opening and closing, sewed with a fabric of glass.
My body lost to me like the last vanishing oranges of sunset.
---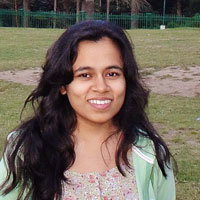 Smriti Verma's poetry and fiction have appeared in Word Riot, Open Road Review, DoveTales Literary Journal, Canvas, Textploit, and Yellow Chair Review. Further work is forthcoming in Alexandria Quarterly, Inklette, and Eunoia Review. She is the recipient of the Save The Earth Poetry Prize 2015 and enjoys working as a poetry reader for Inklette and editorial intern for The Blueshift Journal.