MY CHILDREN BUILD "EVERYBODY'S DREAM LAND" ("Anybody Would Like to Live Here") by Maya Jewell Zeller
MY CHILDREN BUILD "EVERYBODY'S DREAM LAND" ("Anybody Would Like to Live Here")
by Maya Jewell Zeller
Begin by skinning
an animal. This plastic woman
has, like, 200 acres,
and she has so many couches,
and she isn't even going to share.
She's rich, rich, rich.
She's not a vegetarian.
Pretend this action man
comes along. Don't you have
a flower garden? I need to build
a larger flower garden. Okay.
I have two gray pieces
and one other one, which means
I have three gray pieces.
I'm going to make a sack
with all these gray pieces.
We can put in the animal parts.
We can make such a high tower.
I think if we had more
and more we could make the highest
tower ever. With all this tinkering,
we'll be up to the sky in no time.
Well, I'm okay if you wanna
unbuild me. Really? That'd be so
helpful. Let's just ruin you.
---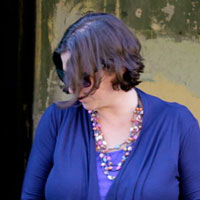 Maya Jewell Zeller is the author of Rust Fish (Lost Horse Press, 2011), Yesterday, the Bees (Floating Bridge Press, 2015), and, with visual artist Carrie DeBacker, the forthcoming collaborative collection Alchemy for Cells & Other Beasts (Entre Rios Books, October 2017). Maya teaches poetry and poetics for Central Washington University. Follow her on Twitter @MayaJZeller.
Image credit: Kelly Sikkema on Unsplash
You may also enjoy:
FLOWER WARS, poems by Nico Amador, reviewed by Claire Oleson