PUGET'S CHILDREN by Jenny Montgomery
 PUGET'S CHILDREN
by Jenny Montgomery

.
It is a relief to pass beyond
the flesh and become instead
a column of information.
Puerile, we watch pulp
mills break down the big
coastal forests with sulfite.
Tender mushrooms from
distant pastures, we grind
them into dust, a magic.
Telepathy inside the car.
Tacoma's air of putrefaction,
old coats, this soft language
streaming down through
rainclouds into the Olds,
entering holes in the tops
of our heads. Lights of
the mills and the port
make sequins, blurring
the hills across the bay
where our houses look back
from behind cedars.
Proof of something riding
the night breeze. The old
gods can't be heard from over
and above, but salt travels on wind
into our cotton mouths.
Stepping over a pool of beauty
bark and cultivars
with nothing to say, we
drive five miles an hour
through the Asarco tunnel
etched with lesions, listening
for sea lions. Leschi was hung
for refusing to give up this grassland.
---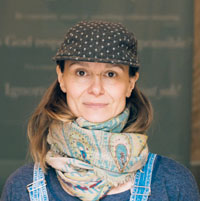 Jenny (Seymore) Montgomery has appeared or is forthcoming in publications such as Barrow Street, Tar River, CALYX, Unsplendid, the New York Times, and the Cairo Times. Her poetry installations have been shown at galleries in Montana and Washington. She resides in Missoula, Montana where she owns a distillery with her husband. Her poem, "The Privative Alpha," was a finalist for the 2017 Kay Murphy Prize for Poetry, judged by Myung Mi Kim. Her poem "Proofed" was runner-up for the 2017 Brittany Noakes Award judged by Sandra Beasley.
Image credit: Seattle Municipal Archives on Wikipedia
You may also enjoy:
NIGHT IS LONGER, a poem by Leonard Gontarek, featured on Life As Activism
T4, a poem by Mehrnoosh Torbatnejad, featured on Life As Activism 
BEAUTIFUL IN ITS SLOWNESS: An Interview with Rachel Slotnick by Millicent Borges Accardi