THOSE STRIKING SHADES I :: THE MAGICIAN. by Cait Weiss Orcutt
Cait Weiss Orcutt


THOSE STRIKING SHADES I :: THE MAGICIAN.



those
various yellows, golden-rods, butter-fat, chrysanthemum wax-wings
..sprung from thin etchings of faith, is it just random—
….the rabbit/sleeve disguised: the magician's headband
white as an Olympic
………..jogger's, woolen shawl red as the gore in a dog-fighting ring? You imagine:
…………………his chalice, flowers of ice-white,
sketched with a heavy hand, a double-candle; what is not
…………………………………………………………………………….burnt here:
..sword, wand, coin? The black market table, ten fat blooms,
….pigeon's blood, rubies, garnets, Reagan Red,
conservative, strong, remember: magic is never
……..democratic.
Sword, wand, a bundle all alike and bedazzled, even the most natural
..items appear so from our tampering, gold tempered
……….to hold a form—the most valuable is too
vulnerable—so here is the alchemist: he is a
……………………………………………………………..lightning
………rod, he holds the wand carefully, he has a button
……………….under his desk
and can lock you in there, under his spell: you don't walk
……………….……………………………………………….alone anywhere
…..while he holds power like that. There's another
……………….magic, one of transformation, the pursued
are granted—turned into yellow star-grass, yellow flag,
……………a mural of plants, silent but living. Is this salvation or censure?
……………….…………Magic is brilliant
in its refusal to clarify exactly whose side it's
…………………………………………………………..on. We're taking notes.
But why trouble the infinite mystery
……….of masculine divinity. The flora's so beautiful here.
---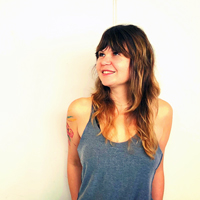 Cait Weiss Orcutt's work has appeared in Boston Review, Chautauqua, FIELD, and more. Her poems were nominated for a Pushcart Prize and Best New Poets 2016, and her manuscript VALLEYSPEAK (Zone 3, 2017) won Zone 3 Press' First Book Award, judged by Douglas Kearney. Cait has an MFA from Ohio State University and is currently getting her Ph.D. in Poetry from the University of Houston. She teaches creative writing at UH, Grackle and Grackle, Inprint, WITS, the Salvation Army, the Menil Collection, and the JCC. She is the recipient of an Inprint C. Glenn Cambor/MD Anderson Foundation Fellowship.
Image credit: Evie Shaffer on Unsplash