EXCERPTS FROM SISTER ZERO by Nance Van Winckel
EXCERPTS FROM SISTER ZERO
by Nance Van Winckel

Some Boy with a Football
The slow snow first and then the hard snow with left and right men shoveling, cars swerving, stalling, spinning out, and drip by drip the icicle daggers sharpening, waiting to descend as we women lug logs up the porch steps and the dogs slink off, shivering, tails between their legs.
—and "Good God," a granddaddy shouts at some boy—with no earmuffs!—holding out a football, offering it to our great frigidity. A once-human hand, a bare beige hand, extending its offering.
And behind the hand, the young face watches us work in the world. Against the world. Some boy. I guess he was mine for a while.
---
⋅
Making It to Vast Old Age, So What
I dress my cat in a baby bonnet, then feel the infusion of his disdain for all that is insipidly human and most alive in a frilly disguise.
Through the clear yellow eyes of underworld lamps, he looks inside me for who I will be when dead. Will he want to eat me?
I untie his ribbons and lie down on my belly so he can climb upon my butt and survey the enormity of his ridiculous kingdom.
---
"First We Must Put On Our Brows,"
my mother says. But she waves away the pencil I hand her. She likes a black ballpoint or the mascara.
Mascara's for lashes, I tell her.
"Lashes, brow slashes—who cares?"
I like this taupe color, I say, offering the pencil again.
She peers at its point. "That's grey, honey."
I'm her sixty-five-year-old daughter but am barely sixteen in her mind until she turns from the mirror and sees me. "You're my sister, right?"
I pause, assessing her face for a good answer. Giving up, I try the pencil myself, easing my brow into a little arc of Say-what?
Forgetting her question, an old woman tugs twice at my sleeve. "Hey, could I use that thing when you're done?"
---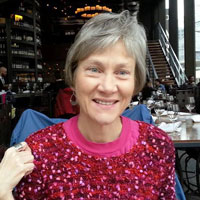 Nance Van Winckel is the author of eight books of poetry, most recently Our Foreigner, winner of the Pacific Coast Poetry Series Prize (Beyond Baroque Press, 2017), Book of No Ledge (Pleiades Press Visual Poetry Series, 2016), and Pacific Walkers (U. of Washington Press, 2014). She's also published five books of fiction, including Ever Yrs, a novel in the form of a scrapbook (Twisted Road Publications, 2014), and Boneland: Linked Stories (U. of Oklahoma Press, 2013). She teaches in the MFA programs at Eastern Washington University and Vermont College of Fine Arts. Read more at her website. 
Image credit: Beverly on Flickr
You may also enjoy: