MAY PROCESSION PRACTICE by Timothy Wenzell
Timothy Wenzell


MAY PROCESSION PRACTICE



Little I stand by William
at the crest of the asphalt hill
looking into the incinerator,
watching the chocolate milk cartons burn while
shaking away my need to piss.
Mother Phoebe has just told the tall boys
at the bottom of the asphalt hill
how to turn like soldiers and
she looks across the ballyard
to the white church
with open doors leading
all the way to Jesus
hanging with His thorny crown over
candles dripping wax hot wax
running down the sides as
my piss leaks
down my trousers like
wax hot wax.
A yellow stream
slithers snakelike
with its foamy head,
gathering momentum downhill
to Sanctuary
between Mother's feet and
breaking her stare from
those sacred flames.
Chocolate milk cartons burn and burn,
incinerating into black feathers rising
out through the carbon chimney,
out of the inferno.
Mother Phoebe walks
up the yellow river to its source:
Hell comes quickly now
So God puts a Whisper into my ear:
"brush the puddle to William's leg
and say
'he pissed sister he pissed sister.'"
But
God in all His Glory can't hide the wet stain
moonsize on my crotch
staring back at the big blue habit hovering,
a monolith with a silver cross
over me and my piss
and my hands done up in prayer.
Now the voice of God has gone away,
now the cartons have burned to ash,
now I'm just waiting
for the Iron Hand of Mother
(getting ready to come down).
---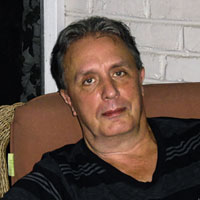 Timothy Wenzell is an Associate Professor in the Department of Languages and Literature at Virginia Union University in Richmond, VA. He is widely published, including a novel, Absent Children, a book on Irish ecocriticism, Emerald Green: An Ecocritical Study of Irish Literature, and many short stories, poems, and scholarly articles in literary and peer-reviewed journals. Tim grew up and attended Catholic school in the Philly suburbs, and Philadelphia and the Catholic school experience have become sources for his fiction and poetry.
Image credit: Michael 1952 on Flickr
Read more from Cleaver Magazine's Issue #13.