ORIGINATING WORLDS by Robert Lietz
Robert Lietz
ORIGINATING WORLDS
Forty millennia, and more, originating worlds,
occasioning wines, wedges, plunder, and
( let's guess, ) recovered and glassed, eyes around
taking in the cases, the cases seem too much,
the notes a reader takes, setting down the catalog,
seeing the slivers, flakes, flecks of stone,
imagining the sounds of stone already used to the inventing,
crying through the tools its need for preservation,
through the same rude calendars, imagine it, earlier,
ahead, as the snow begins another election cycle,
and a second round of it the wizard had not called for,
that delights to start, as an obscenity might, before
you notice where it's going. But how, the first time
at the Diner, could we know, or say which desserts
would bring us back because they'd mattered, which
day-old paragraph or stanza might inspire, snow
to start, and words to re-set a calendar-specific tempo,
the snow continuing, despite the warmest winter
of the century, with the speaker's unannounced, and
over-promised policies, whipped up by the robots
and the meaner-hearted grandpas, with notions of property,
sharpening a lingo to their uses, slices and flakes,
flickers an eye might be inclined to wager on—all
the more while this startling infancy takes over,
and this snow, that's avoided Alliance half the winter,
as if this were only practicing, as conversations
turn to Gaza or Teheran, to Damascus then, or flying
out of Cairo, to the tools and tolls, the influences
peddled among presenters, delegates, as if perspective
were not enough, presumptions enough, or bargains
scaled to holidays, struck, or scaled back, and shared
among the closest intimates. Here, wider even
than conversation comes to be, the straw lidded basket,
situated for its colors, the inflatables, scaled back
admittedly, draw your eye from lights ahead, whatever
a home anticipates, and these low thirties families
know they're getting up with, as Advent accumulates,
when an economy has its way, and, if not snow,
another Ohio Christmas anyway, sure of the frost
and air-borne messengers, of numbers set,
the mileage, the thermostats state-wide, deer-harvests
tallied finally, no less than the rumors, claiming
what's to share or absent here, as the dreams extend,
beyond a lost third shift, and the GOP says
wait, pursuing its sad distractions and its saviors
into the new year, even
as the season, everywhere around them,
gives and must.
---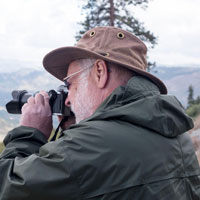 Robert Lietz's poems have appeared in numerous journals, including Agni Review, Antioch Review, Carolina Quarterly, Colorado Review, Georgia Review, Missouri Review, Poetry, and Shenandoah. Eight collections have been published, including Running in Place, At Park and East Division, The Lindbergh Half-century (L'Epervier Press), Storm Service, and After Business in the West (Basal Books). His poems have appeared in several webzines. Additionally, Lietz spends a good deal of time taking, post-processing, and printing photographs, examining the relationship between the image-making and the poems he is exploring.
Image credit: Jessica Fadel on Unsplash