Louder Than Everything You Love, poems by Nicole Rollender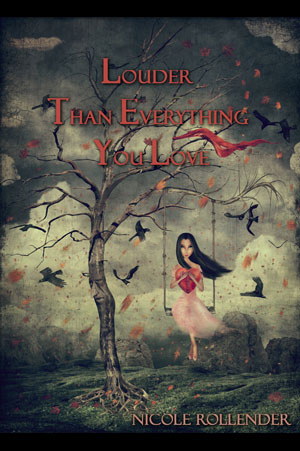 LOUDER THAN EVERYTHING YOU LOVE
by Nicole Rollender
ELJ Publications, 120 pages
reviewed by Camille E. Davis
In her debut book of poetry, Louder Than Everything You Love, Nicole Rollender introduces herself as a voice that is polyphonic, startling, and necessary for the modern audience. When a contemporary woman is bombarded with messages that she cannot control her body, Rollender reaches through time to remind women of their own fierce strength. Rollender does this by considering prominent Biblical women, Rollender's female ancestors, and her own daughter. She achieves this by deeply inquiring into her own faith, heritage, and even her mortality.
The true elegance of Louder is in the way it slowly opens, as if Rollender's neo-confessional speaker were quietly opening up her chest cavity, so that the reader could see her very bones moving. Rollender realizes this feeling through a masterful sense of pacing, an ambiguous temporality, and a lyricism that is gorgeous, haunting, and moldering. I say this because the poems in Louder frequently place the reader in very pastoral landscape, where things may bleed and die in a wooded bush, but where the reader cannot fully track if it is taking place in the past, present, or future. This affect culminates in a mysterious mist-like atmosphere pervading the entire collection.
Rollender also follows in the tradition of poets like George Herbert, using her poetry as an ideal platform for expressions of her devotion. Yet the devotion displayed in Louder is three-pronged: the Christian, the supernatural, and the wonder in life itself. Interestingly, these three strands also connect with three very specific women in her family. Rollender connects her Christianity most tangibly to her mother, as in the poem "There is No Such Thing as Skin," when Rollender explicitly states, "My mother schooled me with stained / glass, saints with anchors hung around / their necks, golden and risen now / from drowning." More often than not, Rollender investigates Christianity by also visiting her mother's memory.
An exception to this would be a poem like "Light Work," where she focuses her attention onto three separate saints. With the voice of her mother in one ear, Rollender queries Saint Apollonia the most: "Snuffling yourself / out is wrong, mother / says, but Apollonia, / who cast her chaste / body into flame, a holy escape from rape…entered / the canon." As the reader discovers later in the book, Rollender has an invested interest in a woman's life after rape. It could be one of the reasons why Louder has a plethora of strong women who survive their misfortunes and why there are hints in "Light Work" that make it seem that Rollender cannot accept a holy suicide as a logical option. Instead, it offers this metaphor: "The work of light / is God's burden: / light workers / alight on lit bone, / now getting lost / in the trees / except for bone-light / guiding bitten skin / wounded wings…my skull eats / fire light, at last." In this, Rollender shifts the duty of making lightness onto God, and angels and saints disappear from her worldview while she focuses on a separate faith.
Stepping into Christianity's place is the inheritance she receives from her grandmother, explicit her "bone-light." The reader comes to believe that this more pagan faith is what Rollender accepts as a second facet of her religious life. Consider the poem "The Light Makes My Grandmother Cry," in which her dead grandmother seems to be so much with Rollender after her grandmother's passing that her grandmother becomes physicalized in Rollender's own body. In this poem, she imagines that her grandmother "pushes up her hands up into mine, slides her ghost bones under / my skin, and watches my fingers dance the shadow- / woman-waltz-grasping at spoons." This itself offers an interesting dualism. While the images evoke a sensation of a body living within Rollender's own body, the language is cold and studying. Through this contrast, the poem forces the reader in a very intimate experience of watching a body as it comes to pieces while the brain cannot take in its reality and is forced to step back into a clinical position.
Throughout Louder, it becomes evident that Rollender believes that she can visualize the dead, though the dead she sees and speaks to are only the women in her lineage who have come before her. (If the reader would like to read an interview with Rollender on this topic, please click here.) This, for Rollender, opens up an idea that a mother's body is a mere placeholder in her family's lineage. As a mother, she feels as if she is the compiled genetic zenith of her ancestors before her, and yet, she can feel a biological necessity in creating a new life that will become the newest apex in her long lineage.
The book then opens a new space of tenderness when Rollender's daughter arrives. In the poems entitled "Psalms to Be Read to My Daughter When (…)", Rollender displays a side that will remind readers of poet-mothers such as Sharon Olds and Lucille Clifton. Once more focusing on a female family member, Rollender takes the opportunity to explore faith in the form of watching a new life begin. She finds an otherworldly beauty in creating her daughter's life.
I should mention that this series of "Psalm to Be Read While (…)" are dispersed throughout the book and cut it into distinct sections. These poems also always come in pairs, like mother and child, and for these poems, Rollender's chosen structure abruptly shifts. Maybe mirroring the body of a child, she chooses the blocky, sometimes ungainly yet beautiful form of a prose poem for this series. The structure mirrors the content of the poems. In "Psalm to Be Read While My Daughter Sleeps," she considers how having a child has changed the very structure of her body and her mind:
………………………………………………….…when I consider the angel that
guides her breathing: the scalpel that tore me to let her see the world:
if a cardinal bleeds red against winter storm clouds: for the mercy of
all light: all my second chances: her loud body-psalm of need: the
only holiness I know.
Indeed, angels, and even the dead, are still mentioned in these series of poems but they are relegated to minor positions when Rollender concentrates on her daughter. It even feels like an opening up of a new space, one in which Rollender can calmly consider the faith that she had before. But, there is still an anxiety in these poems—of what life will hold her daughter. This is where the ambiguous temporality works in Rollender's favor, as it puts a halt on time itself and allows her to fully appreciate moments that before would have been so fleeting. Still, Rollender can take comfort in knowing that her female ancestry has always been full of strong, vigorous women, like "our great-great-great grandmother who rode horses bareback in Poland." In using this inclusive pronoun "our," Rollender also allows the reader to join this fearless lineage. This causes the reader to put faith in the strength inherent in one's own body and ancestry.
---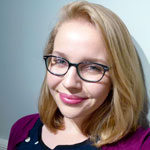 Camille Davis recently graduated with distinction from Temple University, and has been elbow deep in rare books while working at the Kislak Center at the University of Pennsylvania ever since. Lately, she has been writing poetry, building websites from scratch with the help of the New York Code and Design Academy, and diving into Philadelphia's avant-garde jazz scene.