LEXICON
by Lori Lamothe
I've forgotten the language of cities, of travel. I insert the room key upside down, stumble over a couch in the lobby, ride the wrong subway line, walk South instead of North. New York hems me in, surrounds me on all sides until I'm drowning in cigarette smoke, screaming horns, the kind of humidity that settles on skin and won't wash off. The horizon is harder than the soft green sweep of home—stone and steel, mirrored windows that catch the sky and won't let go. I've forgotten how to speak the language of strangeness. Years ago I drove up into the Himalayas at midnight, drank Georgian Cognac in Russia, photographed children in Peshawar. I ordered room service at Hotel de L'Opera and bunked on an old ship in Stockholm.  I stood in Red Square in below-zero temperatures, allowed myself to be carried along by crowds at Rawal Pindi's bazaar. I was never fluent, never fearless, but I understood the dialect of unfamiliar experiences.
Today rain pummels my daughter and I before we can reach the shelter of yet another Starbucks. A tour group clad in clear plastic ponchos marches past, raggedly determined. The sun returns to blast us with its heat but West 34th St. shines clean in late afternoon light. Rush hour surges forward and back, a rip tide that threatens to take us under, until we step into an old church and a pocket of silence opens. My daughter lights a candle for the dead. Outside, shadows bathe the street in echoes and the Brooklyn Bridge looms, its cables weaving twilight into an architect's gothic dream. A man in a business suit cuts us off, but the woman behind the gelato counter gives us "Smiles" for the price of "Winks" to make up for it. Carved stones whisper their names. Skyscrapers step back and offer us a view. Someone's husband hurries back with napkins for a woman crying on a park bench. My daughter and I find the right subway line, the maid turns the upside-down room key, the couch in the lobby opens its green velvet arms for us. Old words flicker in and out of darkness.
Image credit: Guian Bolisay on Flickr
---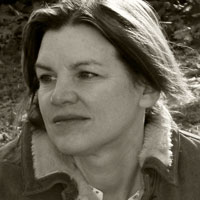 Lori Lamothe's poetry and prose has appeared or is forthcoming in biostories, Bitter Oleander, Canary, Daily Dose of Lit, Fogged Clarity, Notre Dame Review, Seattle Review, The Nervous Breakdown, Third Coast, and other magazines. She is a graduate of Cornell University and teaches in New England.