IRA JOEL HABER, Works on Paper
Ira Joel Haber


WORKS ON PAPER
I have always made art including drawings and works on paper. This selection is from 1972 to 2013 and is a good sample of the themes, images and mediums that have always interested me for over forty-three years as an artist. My training was in commercial art. I began working in the advertising field in 1966 upon completing a two year course at New York City Community College, as it was then known. This training was outdated. In any event, I had little trouble in finding jobs. However, these jobs depended on skills that I really didn't have, and my heart was not really in the ad game.
I want my art to go through slow constant changes, but at the same time I want vast abrupt changes. Nature does the same. Since 1969, I have been making small scale sculptures and miniature environments that have been boxed, floored and walled.
Within these small spaces a wide range of images have been constant and consistent. Houses, mountains, trees, bodies of water and land masses. My work over the years has changed, as I'm always experimenting with my language.
Nature frightens. No slow early autumn walks in the country for me. Nature is a mother with a knife, ready to pounce on us without warning.
Mountains collapse, rivers reclaim, skies open up and caves swallow. But there is also a beauty in this destruction. Keeping myself far away from all things that are natural is what I have a sweet tooth for. The landscapes of my mind reach out for other minds in beautiful acts of aggression.
---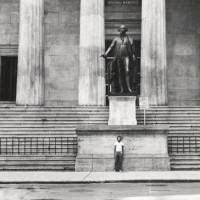 Ira Joel Haber was born and lives in Brooklyn New York. He is a sculptor, painter, book dealer, photographer, and teacher. His work has been seen in numerous group shows both in USA and Europe and he has had nine-one man shows including several retrospectives of his sculpture. His work is in the collections of The Whitney Museum of American Art, New York University, The Guggenheim Museum, The Hirshhorn Museum, and the Albright-Knox Art Gallery, and his paintings, drawings, and collages have been published in many online and print magazines. He has received three National Endowment for the Arts Fellowships, two Pollock-Krasner grants, the Adolph Gottlieb Foundation grant and, in 2010, he received a grant from Artists' Fellowship Inc. Currently he teaches art at the United Federation of Teachers Retiree Program in Brooklyn.
Read more from Cleaver Magazine's Issue #1.