FRANCESCA by Mohammadreza Mirzaei
Mohammadreza Mirzaei
FRANCESCA
I was exhausted. It was an hour since we parked the car down the mountain and came up the slope. I had spent all my life in Tehran, but I had never been in Tochal, which was one of the city's tourist attractions. And interestingly, this time, I was there with someone who was from elsewhere in the world. Her name was Francesca. She was an Italian girl, from somewhere near Naples, a student of Eastern studies in Naples. She had been to Iran several times, once as a tourist, and again as an intern at the Italian embassy. She was here now to take a course at the Dehkhoda institute to improve her Persian. Maybe it's not right to say, "to improve". She could say "hello" and "goodbye" in Persian and she might be able to learn "How are you?" and "Fine, thanks" this time. She had been in Tehran for a few days when she called me, and said: can we go to: "Tochal?" And I answered: "Tochal?"
A few days after that conversation, we were in Tochal, on the side of a mountain. We went and sat at an outdoor cafe. The waiter brought a tray of tea to our table. He said while smiling: "You are very welcome! Your lady is a foreigner, right?"
He had seen us speaking Italian. I pulled on my tea: "Thanks, yes, but she is not my lady."
He said: "Oh where is she from?"
I said: "Italy."
He said: "You did the best man. The best women in the world are Italian." He laughed. "Like Anna Maria Rosa in the Rescue Group TV series."
I had no clue if this TV series really existed, or if he made it up in a second. When he left, Francesca asked me: "What did he say? Tell me. What did he say?"
I said: "Nothing, just a welcome and then he asked where you were from."
She said: "And he knew an Italian girl too?"
I laughed: "No, three Italian girls, Anna, Maria and Rosa."
◊
Francesca took a sugar cube and submerged it in her tea. She then put the sugar in her mouth and drank. She was holding the cube in the corner of her mouth, exactly in the style of downtown dudes.
We had Tehran in front of us, Tehran in smog with tall towers, different buildings. It seemed kind of desirable from afar. I was looking at apartments and thinking of my landlord who had increased the rent. We had to move. Perhaps in the middle of all this smog, our next home was not visible from this spot on the mountain.
Francesca said: "I love Tehran! It's the most beautiful city of the world."
I said: "Where in Tehran is beautiful?"
She said: "It's so beautiful. The smell of smog makes me drunk and boys taunt me on the street. Every time I leave, I soon miss it."
In the cafe, the radio was on, and somebody was talking about the value of proprieties in Manhattan.
I said: "But I prefer New York."
She said: "New York City? Have you ever been?"
I shook my head, to say no.
She said: "Tehran and New York are different, just like the earth and moon are different."
I said: "Have you ever been there?"
She said: "No. But I can imagine. When I was a child, we once went to California. I mean my family and me. There was nothing there. Nothing. It was like another planet. The people were drinking Coca Cola even at breakfast. Do you believe me?"
◊
We had finished our tea and I gestured to the waiter that we wanted another. I was exhausted, and didn't want to start climbing this soon.
Francesca said: "But you should come here more often. Your belly is getting bigger and bigger!"
I said: "I'm in a relationship now. I don't need to be fancy anymore. You should care about yourself, as you are already looking like a housewife."
Francesca hit my hand. We laughed.
Then she said: "Can I say something to you?"
I nodded, to say sure.
She said: "Last time that I came to Iran, I had a relationship with someone."
I said: "It's good! Who is this boy?"
She said: "He is not actually a boy. He is forty­-five."
I said: "For real?"
She said: "He works at the embassy."
I said: "Is he Italian?"
She said: "Yea, he doesn't live here. He is back in Italy for a commission. But he'll be back next week."
I tried to show myself interested and I said: "Listen, if he is a good guy, age doesn't matter. I'm done, but if I could date now, I'd try an older one… Only if she was rich."
She laughed as the waiter served us fresh tea. I noticed him peeking at Francesca.
She continued: "When you are somewhere like Tehran, you need support. You need someone who supports you or you will be so alone."
I said: "I was saying that New York is much better. Or Tokyo, I made a mistake by studying Italian."
She said: "What are you saying?"
She hit my hand harder.
As we finished our tea, I motioned to the waiter to bring our bill and he replied with an understanding nod. The cafe was getting crowded and he was busy with a group of girls and boys who were ordering.
I looked at the top of the mountain. I said: "Drop it! I'm too tired to climb."
She said: "Should I call him?"
I said: "Ah sure. Why not?"
She said: "There is a problem. He is married. His daughter will be attending Sapienza. She might be the classmate of your cousin, Babak."
I smiled. The waiter came, put the bill on the table, and he said while looking me: "Good for you! Get one in the sack for me too."
Image credit: Mohammadreza Mirzaei, Untitled, Tehran, 2013
---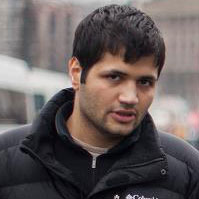 Mohammadreza Mirzaei is an Iranian photographer, writer, and translator based in Philadelphia. His recent book What I don't have is published in Italy by Edizioni del bradipo. He is the translator of "La Grammatica di Dio"; short stories by Stefano Benni from the Italian to the Persian. (Herfeh-Honarmand Publications, 2012, Tehran) As a photographer, Mohammadreza Mirzaei has participated in numerous solo and group exhibition around the world including The 16th Biel/Bienne Festival of Photography and the Fotográfica Bogotá 2011. Mohammadreza Mirzaei has a BA in Italian Literature from Azad University of Tehran and is an MFA candidate at the University of Pennsylvania. Visit his website here.