BURN BABY BURN, a young adult novel by Meg Medina reviewed by Rachael Tague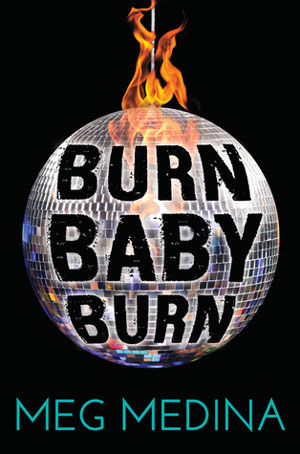 BURN BABY BURN
by Meg Medina
Candlewick Press, 305 pages
reviewed by Rachael Tague
New York City is one of my favorite places to visit. I adore Broadway, Times Square, and ice skating at Rockefeller Plaza. But thirty-some years ago, the Big Apple was not the magical tourist attraction it is today, especially if you had "the wrong skin color or a last name like López." Disco, dancing, free love, and women's rights typically define 1970's America, but, for Nora López, New York City in 1977 means arson, looting, serial murders, a struggling mother, and an increasingly dangerous brother. In Burn Baby Burn, acclaimed children's and young adult author Meg Medina presents a strong female protagonist in one of New York City's most tumultuous years.
Nora should be able to look forward to college, boys, and an all-night dance party with her best friend Kathleen to celebrate their eighteenth birthdays. She should be care-free, dancing to Parliament, Heatwave, the Ramones, Donna Summer, Pink Floyd, and Led Zeppelin. Instead, she's worried about police brutality, scorching summer temperatures, and navigating the dangerous suburbs of NYC as an attractive young Latina in a sea of sickos and psychos like Sergio, the drug dealer in the basement who harasses her and corrupts her younger brother.
Nora feels responsible for her mother's naiveté, her brother's violence, her father's neglect, and her own future, but she hides her problems, afraid to embarrass her family or burden her friends. So while her already broken family continues to crumble, she buys a new pair of Sassoon jeans, fixes her hair, and wears a velvet necklace in 100 degree weather to hide the bruises inflicted by her brother. Her friend, Kathleen, and Pablo, the cute new college boy at work, can only guess at her hardships. But what's the point of daydreaming about friends and boyfriends and an easy life when the city is literally burning down and a serial killer is on the loose, stalking young couples who stay out too late?
When a lightning strike causes a city-wide blackout and throws New York into a panic, Nora witnesses something that forces her to make a choice: trust her friends, take a chance, and admit her hardships? Or dig in her heels and tough it out alone? Her decision will affect her family, her friends, and her future.
This fictitious story of a young woman finding strength and freedom among chaos is set amid true historical events in New York City. As Medina explains, "the city was on the brink of bankruptcy, race relations were tense, and crime had ballooned." At the same time, disco and dancing reigned, and women's rights activists, like Stiller in the book, fought relentlessly for their rights. The 1970's offer the perfect backdrop of political and societal upheaval to tell Nora's story. Through the turmoil, she remains "beautiful in the face of fear."
Nora's struggle to overcome her circumstances drives the narrative. Through an unpredictable but believable plot, her endurance and boldness as she confronts drug dealers, sexism, and racism feels strikingly real. Even if some of the descriptions of the seventies are a tad heavy-handed at times, they are helpful for the many young adults who will, no doubt, enjoy this book for years to come.
Nora's voice itself is burdened but laced with optimism. She can reminisce on a rough past, pick out the bright spots, and look to the future with hope.
"We walk along the ocean up to our ankles. Little kids build sand castles all around us, just the way we used to…By tomorrow, maybe all their hard work will be gone, but they don't seem to mind. They'll do it all again if they have to."
Medina's passion for connecting cultures shines, particularly through Nora's language. Her mother struggles to learn English, and it frustrates Nora, but Nora continues to translate for her mima and talk with her in a way that makes her comfortable. And when Nora learns the new employee, who goes by Paulie, is actually named Pablo, she embraces his Latino name in solidarity. "He says Colombia in knee-buckling, perfect español. Right there, I know I'll never call him Paulie." This harmony of cultures and languages sings throughout the book, drawing readers from several backgrounds into one coherent story.
Anchored by true moments in history, Medina tells a story that proves that progress is not easy on any level, personal to national. While women march for freedom, Nora thunders forward in her own life, coming of age under seemingly impossible conditions and finding strength within herself and in her friends to take a stand for herself and for what is right. Despite towering hardships, Nora, much like the city around her, "stubbornly thrives."
---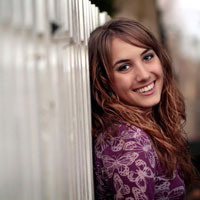 Rachael Tague grew up in the Indianapolis area and is currently studying English and Creative Writing at Cedarville University. She is an editorial intern for Cleaver Magazine.