AUTOMATON AUBADE by Cynthia Atkins
AUTOMATON AUBADE
by Cynthia Atkins
Once I was so lonely, I spent all night talking
to an android, her pursed lips whispering
thick as a storm cloud. I wanted to step inside
her hollow machine, hold the very brink of nothing
alive. I wanted to listen to her voice like the sofa
I was never supposed to sit on. She held my hand
in the boutique of my heart, where there is no
Judgment. Eager to sew the sobs into my pillow.
She respected my boundaries. She capsized every
ache that holds an inflection. And played parlor games
with a haughty accent. I swear she was more than
a blunt brick wall— She was a droid of longing.
When I needed to scream into a bottle, my echo
landed smack dab in the center of a board game
at the other end of the future, where children
are laughing—That boy who held me down never heard
my spine-tingling scream, it was stuck like a zipper
on a winter jacket, it was winched inside me.
Matches in his pockets, he said my hair would
Burn up to the clouds.  Guilt reboots every time
I lean into a wall. A button ripped for each bad decision.
With her teeth, she held the other end
of a jump rope, tasted the yawl
and salt of my wounds. We heard the children
splashing in water, the choir of priests and the barking
dogs and admonitions, outside all the polite rooms
where I kept my hands folded and mouth shut.
---
Cynthia Atkins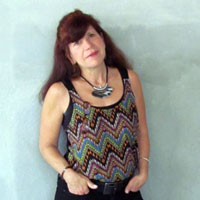 is the author of Psyche's Weathers and In The Event of Full Disclosure, and the forthcoming book, Still-Life With God. Her work has appeared or is forthcoming in many journals, including Alaska Quarterly Review, Apogee, BOMB, Cleaver Magazine,  Diode, Florida Review, Green Mountains Review, Hermeneutic Chaos, Los Angeles Review, North American Review,  Rust+Moth, Tampa Review, Tinderbox, Thrush, and Verse Daily.  Formerly, she worked as the assistant director for the Poetry Society of America and has taught English and Creative Writing, most recently at Blue Ridge Community College. Atkins earned her MFA from Columbia University and has earned fellowships and prizes from Bread Loaf Writers' Conference, The Writer's Voice, and [email protected], as well as Best of the Net and Pushcart nominations. She lives on the Maury River of Rockbridge County, Virginia, with artist Phillip Welch and their family. More work and info: www.cynthiaatkins.com and on Facebook. Author photo courtesy of Alexis Rhone Fancher.
Image credit: Pixabay