A FIERCE AND SUBTLE POISON, a YA novel by Samantha Mabry, reviewed by Allison Renner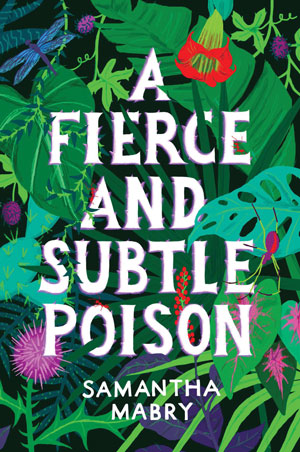 A FIERCE AND SUBTLE POISON
by Samantha Mabry
Algonquin Young Readers, 278 pages
reviewed by Allison Renner
Everywhere we go we are surrounded by stories. Stories about people and places, stories that are told and retold until they are so shrouded in mystery, no one remembers the origin, and no one is brave enough to discover the truth. Like Samantha Mabry's legend of the poisonous girl.
Lucas Knight and his father come to Puerto Rico every summer from Houston, Texas. Lucas's father transforms abandoned, historical buildings into extravagant resorts, while Lucas is content to find trouble with his friends—at least until he's old enough to take over his father's business.
The island is populated with legends of curses and witches, which Lucas believes despite his father telling him not to. Lucas's mother was Puerto Rican and told him her fair share of myths before she disappeared. He and his friends build on the myths they hear, spinning their own versions until they don't remember what's supposedly true.
This much is common knowledge: there is a house where a scientist lives. A white man. He was married to a Puerto Rican woman, but traveled often for work, leaving his wife alone. Here the myths begin, with a wife who is driven mad by loneliness, or cursed, or bitter. She disappears, and the whole island dreams about the daughter she left behind; a poisonous girl with green skin who lives in a shuttered house, surrounded by plants that kill.
The alleged curse doesn't keep Lucas from the closed-off house. He throws wishes over the courtyard walls and believes that his friend saw the green-skinned girl. He wishes and believes until he's too old for that type of story, when real girls come into his life and occupy his thoughts. Until one of those girls disappears. Other girls have disappeared before, but those cases have been linked to the ocean currents or the curse. When a tourist goes missing, the case gets attention—from the American news outlets, and from Lucas. After the object of his affection disappears, Lucas is determined to find out what is happening to these girls, even if no one else can.
The highlight of the book is Mabry's descriptions of the setting and folklore. The imagery inside is as gorgeous and unique as the cover portrays. She paints Puerto Rico's landscape with vivid colors and populates it with townspeople that come alive with their heritage.
On the side of the road, multicolored birds perched on fallen trees, and if I listened hard
enough I could hear the tiny tree frogs croaking out a sound that was impossibly loud for
creatures their size.
Lucas, as a character, however, feels underdeveloped, coming across, instead, like a stereotypical, entitled rich kid. While Mabry sets up a compelling backstory, she doesn't follow through to allow readers to empathize and stay with Lucas on his quest to get to the root of the legend. Lucas remains passive, taking a backseat to the curse. And the poisonous girl doesn't get an opportunity to share her side of things, which could have brought the curse to life and propelled the story in a different direction.
If you've previously stayed away from books based on legends because they tend to be more supernatural, then A Fierce and Subtle Poison is the book for you. The legend is central to the story, but it never pushes the book into the realm of the supernatural or fantastical. It toes the line of magical realism, with some mystery thrown in for good measure. The book will do wonders to satiate wanderlust and readers will fall in love with Mabry's beautiful imagery even if it falls short at delivering an entirely fulfilling story.
---

Allison Renner has worked as a photographer, student teacher, and graphic designer. She is currently a librarian who shares her love of young adult literature with teens in public libraries.