YOU'RE ALL JUST JEALOUS OF MY JETPACK by Tom Gauld reviewed by Rebecca Dubow
YOU'RE ALL JUST JEALOUS OF MY JETPACK
by Tom Gauld
Drawn & Quarterly, 180 pages
reviewed by Rebecca Dubow
Tom Gauld's latest graphic novel, You're All Just Jealous of My Jetpack, is a hundred and eighty pages of cartoons about classic literature in the digital age. Many of these graphics have already appeared in The Guardian, but reading each of them back to back is especially satisfying. Experienced this way, his cartoons argue for a seamless intersection of literary fiction and popular culture.
A graphic novel is the ideal medium to accomplish this marriage because it has historically been associated with popular culture. In the past ten years or so, however, great works like Alan Moore's Watchmen and Marjane Satrapi's Persepolis have demonstrated the considerable potential of the graphic novel as a literary work. Gauld's graphics are cartoonish and simple, indicating at first that the work would be equally cartoonish and simple, but his irreverent understanding of classic literature is immediately apparent. Although each page contains a different cartoon, the same figures appear repeatedly—Dickens, Shakespeare, and dinosaurs, to name a few.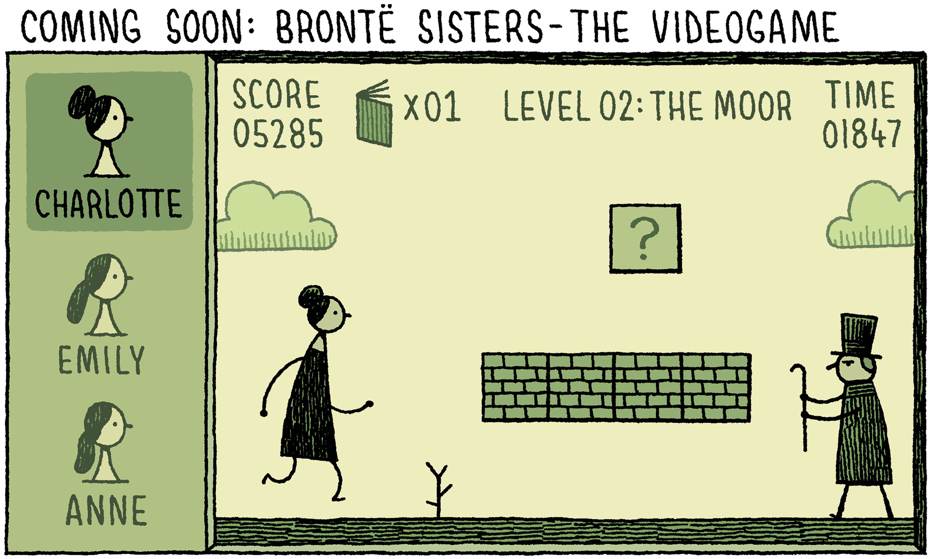 Gauld takes modern storytelling devices and then puts those devices in conversation with classic literature. Dickens becomes a "Dickensmobile"-driving superhero, the Bronte sisters find themselves in a video game, and, in my personal favorite, Cinderella's fairy godmother turns into a feminist. She gives Cinderella financial security instead of a prince ("so you only have to marry if you want to," she tells Cinderella). The effect of seeing such timeless literary figures interact with modern concepts is at first funny, but it also reminds the reader of the potency of these classic tales. We love Cinderella and the Bronte Sisters even if they don't necessarily make sense in the digital age.
No motif—whether it stems from the classics or the modern cannon—is safe from Gauld's insightful ridicule. One cartoon features a maze, and at the start a man stands with a cup of coffee and a cell phone. The title instructs the reader to "guide the metropolitan intellectual back to his ivory tower without encountering his countrymen," which conjures a kind of playful disdain for the state of modern academia. A few pages later, a walking Victorian novel with a top hat and cane comes across a Victorian painting, similarly dressed. They despise each other. While humorous, this image also indicates a kind of scorn for more classical British literature. Because Gauld does not discriminate in his scorn, however, and instead seems to be just play-fighting with the entire literary canon, the reader can detect a deep affection and dedication to the subjects of his teasing.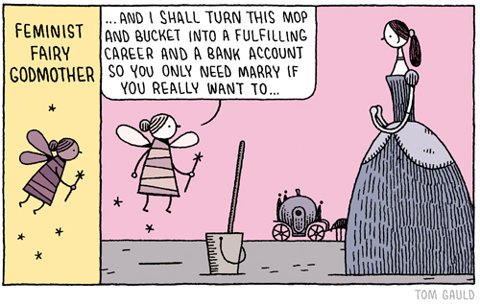 This dedication is best conveyed in the cartoon that gives the book its name. It features black-clad intellectuals, labeled "Proper Literature" as they tut at a man in a spacesuit labeled "science fiction." The "science fiction" man is saying, of course, "you're all just jealous of my jetpack." Making a distinction between "proper literature" and "science fiction" is, to some extent, ironic. In fact, in The New Yorker last summer, "science fiction" and "proper literature" rubbed against each other in that same way in their science fiction issue. This cartoon reminded me of the cover of that New Yorker, which depicted robots, aliens, and a space-suited man breaking into an otherwise stuffy-looking party of intellectuals.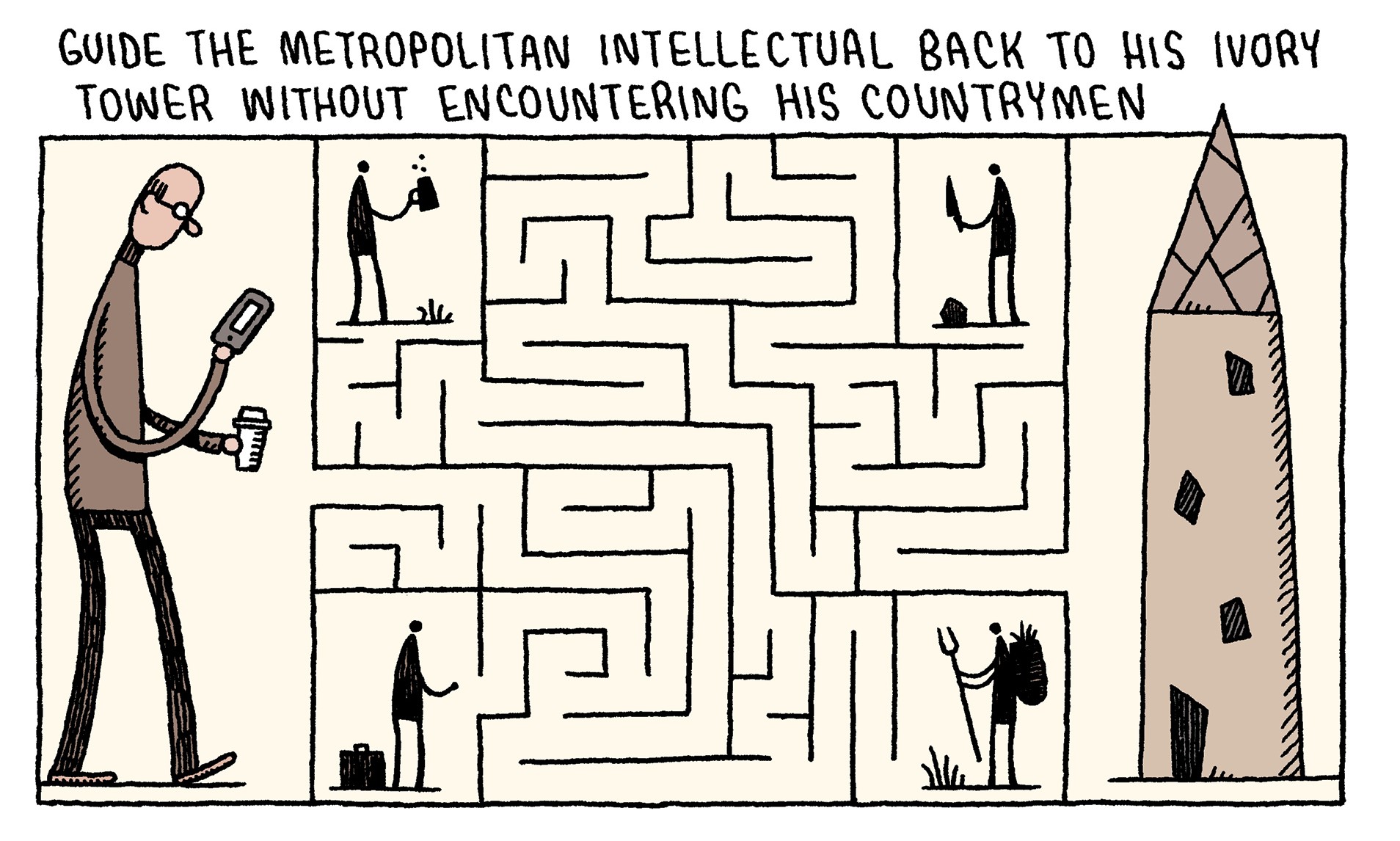 Clearly, this stark contrast between drab intellectuals and the robots of science fiction is a source of some anxiety for contemporary writers. On the cover of The New Yorker, these newfangled characters were breaking into a party of intellectuals; in Gauld's work, however, the man in the spacesuit is leaving the intellectuals and taking off into territory that they cannot reach without that enviable jetpack. "Proper literature," then, cannot reach the great heights of "science fiction."
When Pulitzer Prize-winning authors like Jennifer Egan start producing beautiful works of science fiction, is it "proper literature" or "science fiction" that is in danger of extinction? In this cartoon, it would appear, ironically, that "proper literature" is quite literally beneath "science fiction." The man in his jetpack and spacesuit is surrounded by stars while the intellectuals are drab, with their heads down as if mourning the literature they once understood and loved. You're All Just Jealous of My Jetpack proves how these two parts of English literature can coexist. Perhaps we need not call a piece of literature either "proper fiction" or "science fiction," but rather, when combined, both proper fiction and science fiction can gain a mass appeal that could not necessarily be achieved individually.
–May 29, 2013
---

Rebecca Dubow is from Philadelphia, PA and recently graduated fromthe University of Pennsylvania where she studied Creative Writing.