THE LAST WEYNFELDT, a novel by Martin Suter, reviewed by KC Mead-Brewer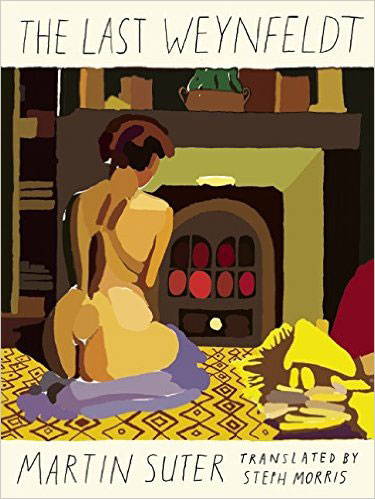 THE LAST WEYNFELDT
by Martin Suter
translated by Steph Morris
New Vessel Press, 302 pages
reviewed by KC Mead-Brewer

Martin Suter's The Last Weynfeldt is an impressive work of intrigue and beauty. It sparks at the intersection of two very different people, Adrian Weynfeldt, mid-fifties, internationally renowned art expert, and Lorena, a shoplifting, small-time model who rips Adrian from his carefully crafted still life.
Adrian earns his living by putting a "fair" price on beauty, authenticity, and originality. Lorena, often an anonymous commodity as a model, is also a thief, a woman who never pays society's agreed upon price. And it's through these differences—along with a whole host of other artists, liars, grifters, and moochers—that Suter brings out the novel's central conflict between authenticity and forgery, the mass-produced and the one-of-a-kind.
Of Lorena, Suter asks what does it do to a person to be dismissed as little more than copy or commodity:
In the streetcar to the exhibition center [Lorena] took a free newspaper from the dispenser and sat down cautiously on one of the hard seats.

Her picture was on the cover. Wrapped around the Ducelli in a provocative pose, with a seductive look for the camera. The caption read: "Superbike with ultra-transparent chassis and high-torque motor: the new Ducelli 7312."
She read the article carefully; she wasn't mentioned anywhere in the main text either. Not even as an accessory, not even as something which stopped you from getting a good look at the bike. It was as if she didn't exist.
But just as Lorena longs to exist, to matter to someone, to matter to herself, Adrian is only too happy to remain locked up in the tradition-built cages of routine and old money.
The Swiss Suter's style in Steph Morris's translation fits Adrian perfectly. Each chapter is a neat, easily digestible morsel, one you might imagine Adrian savoring while dining out with one of his various lunch clubs. And Suter's prose is at once lush enough to relish and so confining as to make you want to elbow your way into a larger room, free from all the suffocating smoke of "polite society."
For while these gilded cages may have been built by his predecessors, it's Adrian who keeps the confining bars standing thick about himself—in his formal, sometimes (unintentionally) condescending manner of speech; in the oily (however well-meaning) way he tosses money around to avoid even the slightest whiff of conflict or discomfort; in the way he traps himself in the past by refusing to learn how to use a computer or carry a cellphone; in the way he confines himself to a life of complete dependency by never learning how to cook, clean, or even dress himself, turning instead to chefs, ancient housekeepers, and fussy, high-end tailors. Indeed,
Weynfeldt never went to an effort. He left that to Frau Hauser. She would prepare what she called "a morsel"—tiny canapés with salmon, foie gras, roast beef, viande des Grison, lobster garnished with homegrown oat- and lentil sprouts and radishes. For dessert there would be more morsels, this time sweet—éclairs, mille feuilles and the whole pâtisserie repertoire, all in dollhouse proportions.
That is, until Adrian, against his usual routine, ends up inviting the half-drunk Lorena back to his place for the night, only to wake up and find her teetering on his balcony, threatening to kill herself. If she had killed herself, perhaps that would've closed the book on Adrian's story, giving him an excuse to sink ever deeper into his plush prison. But she doesn't. And, as Lorena herself is quick to point out, since Adrian isn't responsible for her death, he's now responsible for her life.
She looked up at the gray sky. "The weather certainly wasn't worth staying alive for."
"Anything else?"
"What else then?"
He shrugged his shoulders. "There's always something worth staying alive for."
She stared at him intently. "Can you guarantee me that?"
"Guaranteed."
But even as Adrian comes to know a new way of seeing the world through Lorena, he soon finds himself yanked out, onto a teetering edge by an act of forgery in a world that, as Adrian only then begins to realize, is itself filled with forgeries.
---

K.C. Mead-Brewer lives in Baltimore, Maryland. Her writing appears or is forthcoming in Carve Magazine, Strange Horizons, Hobart, and elsewhere. As a reader, she loves everything weird—surrealism, sci-fi, horror, all the good stuff that shows change is not only possible, but inevitable. For more information, visit kcmeadbrewer.com and follow her @meadwriter.