WORKS ON LOVE by Michelle Doll
Michelle Doll


WORKS ON LOVE



My paintings are about felt moments, both the visible ones as well as the ones that we aren't able to see. For years, I used to create work about feelings of disconnect and loss. When I'd leave the studio, those feelings and the difficult emotions surrounding them would become amplified. But today, both my life and my work are focused on love and connection, what I see as the root of intimacy.
Such moments exist as I go through my day. I find myself constantly witnessing how people connect. Living and working in New York is a source of inspiration, as I can absorb these intimate interactions openly, on the streets. I'm attracted to the physical and metaphysical energy that's going on between individuals — the touch between a couple, the closeness between a mother and child. By capturing these private moments, my paintings seek to bring together the mind, body, and soul through the physical substance of paint.
I naturally express myself through touch, and the very tactile quality of paint allows me to express myself. Each brushstroke is a way of recording the dialogue between bodies and minds during moments of closeness. For me, the greatest quality of oil paint is that it allows me to explore these expressions of intimacy. The nature of the body and the often elusive nature of love is no longer hidden from view. It is given texture: sometimes rough, often sensual, at times gentle, but always present. The touch of paint to the canvas is also a presence that I can share with viewers of my work.
There is an inherent vulnerability I experience while revealing the relationships between people, and the painting process allows my own emotions to come through. I allow myself to feel the beauty and weight of my sitters, and whether I feel bonds of love or fear and loss, I pass it along through my work.
This said, it is all very transitory. When I start a painting, I ask, how does this feel and what is the importance of the moment? I usually focus on certain areas in the painting while allowing other areas to "fall away," not fully rendered. In that way the painting when complete feels similar to the way intimate moments have been experienced. It becomes essentially a stand-in for multiple sensations that would otherwise be lost to time.
These transient, hidden flashes of physical human contact hold meaning in the creases, crevices, overlaps, folds and weight of connecting bodies. Each stroke of the brush is, for me, a way of grasping and holding this.
The paintings:
Mother Child (KA2), 2014, oil on canvas, 60 x 60″
Couple (JT5), 2014, oil on canvas, 60 x 60″
Couple (AJ6), 2015, oil on board, 30 x 20″
Couple (JT1), 2013, oil on canvas, 40 x 28″
---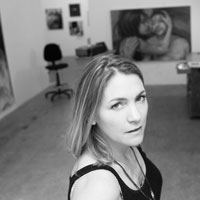 Michelle Doll's paintings capture quiet, intimate moments hinged on personal connections between her subjects, as well as their interactions with the world around them. Doll's recent works are imbued with femininity and introspection, and explore the themes of love, desire and connection. She earned her B.F.A. from Kent State University and M.F.A. from New York Academy of Art where she graduated cum laude on both. Her work has been exhibited and featured worldwide at galleries in New York, St. Barth's, San Francisco, Chicago, Basel, London, and Olso. She is represented by Lyons Wier Gallery in New York City and Galleri Ramfjord in Oslo, Norway. Michelle Doll currently lives and works in Hoboken, New Jersey.
Read more from Cleaver Magazine's Issue #12.